Campaigning
May 20, 2022
In his 2020 campaign against Anna Eshoo, Kumar campaigned as a fiscal moderate and social progressive focused on technological literacy, innovation and housing while targeting Eshoo for her longtime campaign contributions from pharmaceutical companies and an allegedly unproductive track record. Despite his loss to Eshoo, Kumar is still confident about his 2022
run.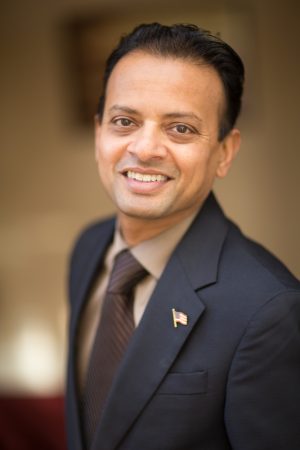 "Our strategy is definitely working and the positive feedback from district residents is a huge boost for our volunteers," Kumar said. "Thanks to unprecedented district engagement and support, we have an army of volunteers supporting our run. We are ready to win."
This election cycle, Kumar has maintained his message from 2020, calling out what he views as out-of-touch, corrupt, "technologically illiterate" and aging government leadership. His main focuses are technological innovation in lawmaking, healthcare, infrastructure, climate action and protections against threats like biowarfare. He also focuses on California- and Silicon Valley-specific issues like big tech, stagnating innovation, and wildfires. Kumar views his tenure at tech companies as conducive to Congressional leadership.
"We need engaged leadership to fix our underlying issues, and that is why I am running," Kumar said. "We must lead the charge with cutting-edge technology and prepare the next generation to succeed in a 21st-century economy."
While Kumar specifically targets Eshoo's age and decades-long Congressional tenure as making her out of touch with the computer-powered present, others view Eshoo's experience as beneficial to her position.
"If [Eshoo] were to lose, we would lose a highly experienced, senior Congresswoman that is chair of the Health Subcommittee and that is doing everything in her power to do what is right for her constituents," Jessica Speiser, a board member of the Los Altos School District and a delegate of the Democratic Senatorial Campaign Committee, said. "Seniority makes a difference in Congress and makes your voice louder and more heard than those of new congresspeople."
Eshoo's seniority is one of the largest obstacles Kumar's campaign faces. She has represented Silicon Valley in the House since 1993, and no candidate has been able to unseat her since. The closest any candidate came to doing so was Kumar himself in 2020.
Although Kumar ran uncontested in the Democratic field against Eshoo in 2020, the upcoming race has seen two new candidates, Palo Alto council member Greg Tanaka and attorney Ajwang Rading. Kumar professed welcome for the new candidates, calling the field's expansion an "expression of democracy," but emphasized a consistent campaign strategy based on engaging in conversations with constituents and spreading the message through emails, flyers and more.