Cal Cuts Five Varsity Sports, Two LAHS Grads Affected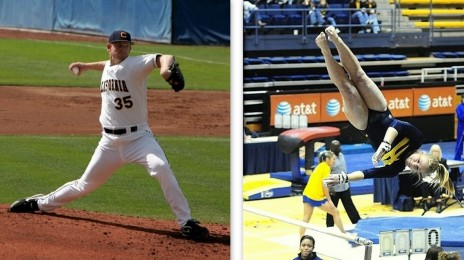 Erik Johnson
, left, pitches during a Bears baseball game (DailyCal.org).
Arla Rosenzweig
, right, completes her bar routine while competing for womens gymnastics.
The University of California, Berkeley (Cal) announced that it would cut 5 varsity sports from its 29-sport program for the upcoming school year.
Two of the athletes affected by these cuts are recent graduates from LAHS.
Current Cal junior Erik Johnson and sophomore Arla Rosenzweig are part of the 163 athletes whose sports were cut.
Erik pitches for Cal's baseball and Arla competes all-around on the womens gymnastics team.
"Our whole team was pretty disappointed and the last two days we had some guys who did not know what to do and were very confused," said Erik. "[It is] especially [hard] for the freshmen, they just got here four weeks ago … they're still trying to find their place at Berkeley and now they're getting told that they can't play here."
Cal cut the teams due to statewide budget cuts. By reducing the number of offered sports to 24, Cal will reportedly save an estimated $4 million.
"I was devastated when I first heard the decision, as was our entire team," Arla said.
For the Cal student-athletes that were given athletic scholarships, the university's administrators promised to honor those scholarships until the affected athlete's graduation. If the student wishes to continue his or her athletic career, the administrators have offered to help the student transfer to other universities that have similar programs.
Arla, although she did consider transferring, "loves Cal too much to leave."
But Erik did not feel that there was a reason for him to stay at Cal beyond the baseball program.
"I'm planning to play with the team and finish out this season," Erik said. "I am eligible to play professional baseball. Hopefully that will work out for me, [but if it does not] I'll find another school to go play at."
Since the sports will not be cut until the end of the academic year, both baseball and gymnastics will finish out their current seasons.
"There is nothing complacent about any of the teams that have been dropped," Arla said. "Only being given one last season is going to take a toll on a lot of my teammates, and myself, but I know it will motivate us to work harder to make [the season the best]."
Erik and the baseball team are also motivated to complete the final Cal baseball season strong.
"Our team has really made the choice to play the season out and hopefully the core guys will stick together," Erik said. "We'll show people this year that they made the wrong decision to cut baseball."
Mens gymnastics and womens lacrosse have also been dropped from the list of sports that will represent Cal in intercollegiate competition. Mens rugby will be given a new status as varsity club sport, though technically the team cannot compete for Cal anymore (though it will keep the same privileges and medical facilities).
The cuts will affect 163 male and female athletes out of the 814 currently involved in Cal's athletic programs. Out of those affected, 118 athletes are male—61 from rugby, 38 from baseball and 19 from gymnastics—and 45 athletes are female—30 from lacrosse and 15 from gymnastics. Thirteen full-time coaches will be impacted as well.
"The majority of us have been doing gymnastics since we started walking and have dedicated our entire lives to it," Arla said. " … After everything I've sacrificed to achieve that goal, it was hard to process that gymnastics was being taken away from me."
Leave a Comment