Building community through the ELD mentor program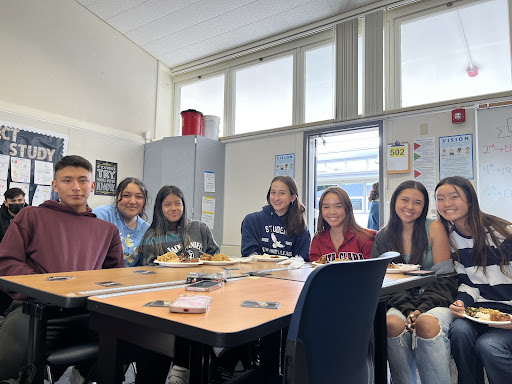 Native English speakers have certain privileges, whether they are aware of them or not. At school, it often manifests when a student can easily understand the morning announcements, catch everything during the teacher's lecture and make friends more easily. It all comes down to English fluency. 
But it's not like this for everyone at Los Altos High School. In order to close the gap between English-fluent students and those who are learning English, senior Chloe Park began the English Learners Development (ELD) mentor program earlier this year.
The motivation behind LAHS' ELD mentors program began decades ago, starting with Chloe's dad.
"My dad was in the ELD program, around middle school and high school, so he would talk to me about making friends and reaching out to people, because he felt isolated in that program," Chloe said.
This personal connection allowed Chloe to better understand the struggles of connecting with other students that non-English fluent students may have. This is what pushed her to meet with the administration and the Student Community Leader (SCL) advisor Sarah Alvarado this summer to begin the ELD mentors program.
The ELD mentors program has a few main goals: running alongside the new ELD program, it works to connect non-English fluent students with on-campus opportunities, such as sports, clubs and other extracurriculars. ​​It also aims to build a community with mentors who can help them feel comfortable at LAHS.
"
The inspiration was really just to provide mentors and build bonds and relationships with students who are new not only to the school and to the environment, but to the language."
— senior Rodrigo Sepulveda Sagaseta
"The inspiration was really just to provide mentors and build bonds and relationships with students who are new not only to the school and to the environment, but to the language," ELD mentor program co-President senior Rodrigo Sepulveda Sagaseta said. "So we really wanted to make sure that process was simplified and the transition was easier."
The program made sure to recruit mentors that speak a diverse set of languages, as it was hard to predict what languages the nearly 50 students that needed to be mentored would speak.
There are currently 12 mentors, who speak Korean, Japanese, Spanish, Hindi, French, Russian and Mandarin. Bi-monthly meetings are led by Chloe and Rodrigo and are open to any ELD program students. Announcements are made to provide relevant campus news, like seasonal sports and upcoming school events. Students are given papers to follow along in their native language. The students then often break into language groups so mentors can focus on fun activities and check-ins, such as getting cleared for athletics or joining new clubs based on their interests.
"[The ELD mentors program] has been great because students know that they can go to other students to ask for help, especially coming to a new school," ELD program coordinator Adriana Romero said.
One impactful effort in building community and helpful relationships was their first lunch, where ELD program co-presidents Chloe and Rodrigo led a casual get-together. They invited ASB and SCL members, ELD program mentors, teachers that work with the ELD students outside of the program and ELD program students to forge connections outside of a purely academic setting. The room was packed with students — the sweet scent of Panda Express filled the air with the excited chatter of multiple languages.
The meeting focused on bonding: mentors and students played games together, such as Uno, or simply talked. Emerging from the meeting, the sense of community was unmistakable.
"Specifically our lunch, which we had recently, was really fun," Rodrigo said. "It was a good opportunity to get close to students, and not on an academic level."
As the program continues to develop and connections are made between ELD program students and others at school, they hope to lessen the social gap between non-English fluent and English-fluent students with the growth of this community.
"If you're interested in becoming a mentor, we're open," Chloe said. "We'd love to have you here."
Leave a Comment