Broken Box Tackles a New Challenge: One-Acts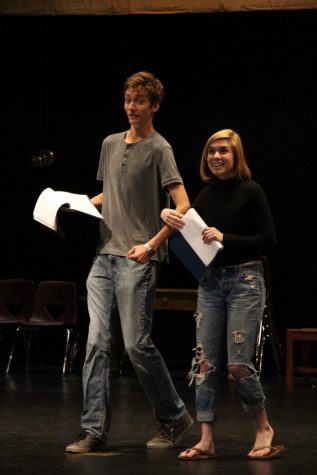 Kylie Akiyama
For the first time in Broken Box's history, the theater company will perform two one-act plays as their final show of the year. Each actor has at least one role in each one-act, and, between the two shows, they morph between drastically different characters — the Wicked Witch of the West to a modern teenage girl, for sophomore Jessica Aaron, or the Tin Man to an impatient post office customer, for junior Henry Lai.
The one-acts — plays that consist of a single act rather than the usual two or three — present a different challenge for the actors than their recent drama, "The Remarkable Incident at Carson Corners." While the actors flexed their dramatic acting skills in the drama, the one-acts will showcase a different set of strengths: the actors' versatility and ability to rapidly develop their characters.
"[In the drama], nearly everyone was onstage the whole time so it was about staying realistic and reacting to these surprising things that were happening for a solid two hours," senior Reese Toomre said. "This one is about being onstage for a really short period of time and making [the audience] remember and laugh about what you're doing."
Searching for something new during their script read-throughs, the cast stumbled upon "When Bad Things Happen to Good Actors" and "The Day the Internet Died," both comedies written by Ian McWethy and Jason Pizzarelo. The first one-act is centered around a failing attempt to perform the Wizard of Oz as the actors and stage crew forget their lines, cues and the proper sound effects. The second one act revolves around a week where the internet goes down and how the townspeople deal without technology.
For sophomore Adam Hollingworth, feeding off of his fellow actors' energy is crucial in helping him switch between his two characters, one of the Wicked Witch's flying monkeys and a crazy conspiracist uncle.
"I won't necessarily even be totally registered as one character, but once I get out onstage and see my other actors doing what they need to do, it kind of triggers something in me, letting me do what I need to do," Adam said.
Although having two one acts presents many new opportunities for the cast, like rehearsing more one-on-one with Moran and each other, it also comes with challenges. Actors must memorize two completely different sets of lines that have no relationship. This can prove to be difficult for some actors, while for others, it's fun to explore two different characters.  
While a typical drama gives actors two acts to fully develop a character, one-acts force actors to bring their character through a full arc in half the time.
"I was worried (the one act) was a little too short to show off character development," senior Audrey Leong said. "But it's really not a problem, and it actually keeps the audience entertained because everything goes by so quickly. You have to stay focused on the scenes to catch what is happening."
"It's definitely difficult," Adam said. "but it's a fun challenge. It's why I'm in Broken Box, because I love it."