Broadway Comes to Los Altos in 'Fiddler on the Roof'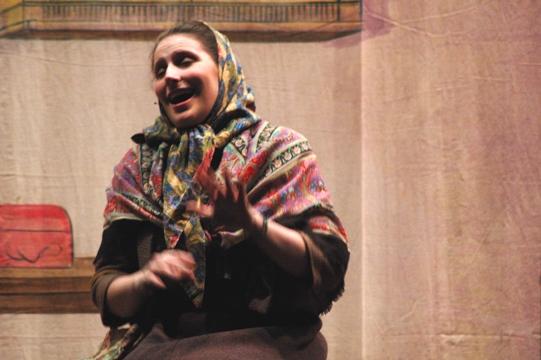 It's a good thing that the roof to the Eagle Theatre was built to California State building codes to be earthquake-safe because, otherwise, the musical's cast would have literally brought the house down to the ground. The school's musical, "Fiddler on the Roof" opened last night, Thursday, February 3.
The crew and cast took us to 1905 Anatevka, Russia where Tevye the milkman, played by senior Josh Sims, lives a modest life with his wife Golde (senior Lauren Biglow) and five daughters.
Everything from the orchestra, to the dancers, to the lone fiddler (senior Sam Colman) playing upon the roof was commendable. The musical featured incredible performances from all of its leads in Josh, Lauren, and the daughters Tzeitel (senior Natasha Bratkovski), Hodel (senior Alyssa Kelly), and Chava (sophomore Sitar Terrass-Shah) who all are married by the curtain's fall.
Josh handled a tough role with composure and authenticity, singing and dancing his way through classic songs such as "If I Were a Rich Man." His cawing like a chicken and the little bit of humor he added to the show were especially enjoyable and added character to his performance. If I were a girl, I may have thrown him my underwear during his bow.
My favorite scene was Tevye's dream, which featured great acting on not only Josh's part but by all the villagers and senior Sarah Breslin, who played Fruma-Sarah, the ex-wife of Lazar Wolf (sophomore Sam Gavenman), a man who Tzeitel is arranged to marry.
Additional impressive performances were made by junior Becca Wolber, who played Yente the matchmaker in an especially convincing manner, and senior Dainen Bocsary, who truly danced like a drunk Russian. The featured dancers who balanced bottles on their heads were incredibly impressive, as well.
If I were a rich man, I would fly out to New York City and see Fiddler on Broadway. But I'm not. And the school's rendition of Fiddler is more than good enough.
Leave a Comment