Boys Water Polo Starts on Strong Note
After losing five of last year's starters to graduation, the varsity boys water polo team has its work cut out for them as they head into the new season. However, after successful preseason training with new and experienced talent on all sides of the field, the team has begun its season successfully, with the potential to match the prowess of last year's lineup.
The team began preparing for the season with a two-week period of conditioning. According to captain senior Jim Hollingworth, this year's conditioning indicated the team's budding potential.
"We did a workout called the test set which is 20 sets of four laps on a certain time interval," Jim said. "[Varsity head coach] Seth Tasman recorded our times and averaged them, and we dropped a lot of time. We did it two or three times and we dropped time on every single one."
Part of the team's rapid improvement during preseason training includes the fact that many of the players already have experience working with each other.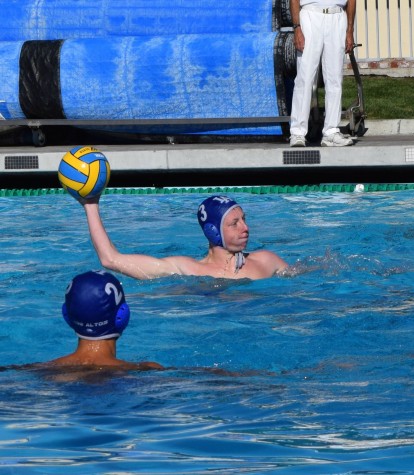 "A lot of us play club together over the summer, so it's not really like it's the beginning of the season for [most of] us," Jim said.
In terms of the players this year, the team seems to have some exceptional talent on the young end of the field. Two sophomores, Kyle Sandell and Eric Warmoth, are making huge contributions as starters.

"Kyle and Eric are doing a very good job being starters in a very up-and-coming team," Tasman said.
The team recently played two scrimmages, losing to Menlo-Atherton and beating Saratoga. Tasman viewed these early games as a very positive sign heading into the new season.
"In our first two games we've shown that we can swim and can keep up with some of the top teams in our area," Tasman said.
The Eagles opened up the regular season successfully on Thursday, September 17, beating Wilcox handily 12-4. The team is very happy with its performance and looking forward to seeing how it will do in future games because their win was not just the result of one exceptional player.
"Most water polo teams in the area have one or two key players that score 50 or 60 percent of the goals, but yesterday we had all five or six players score two," Jim said. "That's unusual but it's also a testament to the teamwork and the cooperation of [our] team."
With its early successes in training and games this season, the team has its eyes set on league finals where it hopes to place in the top four and qualify for CCS. According to Tasman, the team also wants to focus on improving all facets of its game.
"Our goal is to improve, get better every day and work hard," Tasman said. "We look like we are becoming a good all around team offensively and defensively."
Leave a Comment