Boys Soccer
February 8, 2019
Varsity boys soccer began the season with a bang, going undefeated with three wins and four ties in 2018. However, the new year brought several challenges to the team, and several losses in a row led to the Eagles' fifth place standing in the league with a 3-4-3 record. Now, the team is looking to turn the season around with a new attitude and renewed sense of teamwork.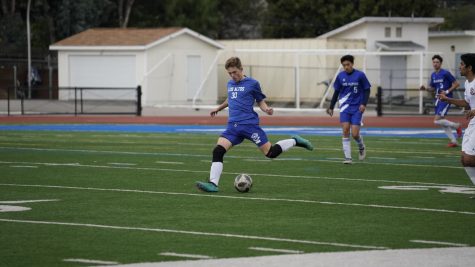 "It [was] tough at the beginning of season," senior captain Harry Allen said. "It was [going] really well [and] we went undefeated for a while. And then we lost a couple games and then we started to get on each other's cases. We weren't playing as a team very well, but now we're starting to play as a team again. I'm hopeful that we're gonna win every game [from now on]."
The team has been working to overcome their problems through teamwork and training harder at practices, passing to each other, and reflecting on their behavior toward each other in team discussions. The Eagles believe that they will regain the quality of teamwork the players displayed at the beginning of the season.
"Now there's a lot of learning [opportunities] this year because [we have] a lot of young guys," Coach Vava Marques said. "We have a freshman that starts for us, and we have a lot of juniors and sophomores on the team, [but] not a lot of seniors so I think the games that we lost [were] just because of decision making, which comes with experience. I think we're doing really well for such a young team."
As the season progresses and the team gains more experience with each game and practice, the Eagles have started regressing to the caliber with which the team played in the beginning of the season. On January 18, Los Altos beat Homestead High School, the current league champion with a record of 7-2-1.