Boys Basketball
February 8, 2019
Boys basketball has seen a drop in performance this season and are now just 2-9 in league. They started the season steady with a 13-14 overall record in the preseason, but have faced numerous setbacks, including the injury of two starters.
Coach Trevor Naas tries not to dwell on the injuries, looking to the bench to fill the starters' spots. This has allowed the non-starters to see more play time and improve for future league games.

"[Some things happened] that are out of our control, [but] you have to step up to the challenge and take care of it; there are no excuses," Naas said.
The Mountain View game on January 16 was a wake-up call for Los Altos. It was their biggest loss of the season, with a score of 23-65 on their home turf, and it brought out the team's most pressing issues. Despite the loss, Los Altos bounced back, putting up a fight in their succeeding game against Palo Alto. Los Altos had a lead against Palo Alto at halftime and were down by one at the end of the third, although they were not able to come away with a win.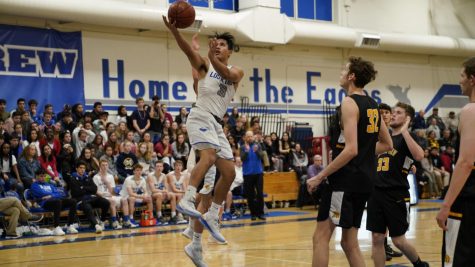 Still, Naas is always trying to learn and build off of their losses. The team has shown improvement, working diligently during practice and covering the mistakes that have shone through in recent games, namely strengthening defense. Their defense was much more aggressive this Wednesday, February 6th in their second game against Mountain View. They frequently double-teamed players and forced Mountain View to miss more shots. Although Mountain View came away with another large victory, the score gap
As much as the team continues to improve, injuries are still dragging the team down and Los Altos must work with what they have until the lost starters can recover, which may mean more losses down the road. Naas concluded with an optimistic outlook, noting the willingness of bench players to step in and do their job.
"This is a great group of kids," Naas said. "We've hit a little bump in the road during the first round of league, but they're fighting through the adversity of guys getting hurt. We're looking for a strong second half."