Bonchon Chicken Fulfills the Fundamentals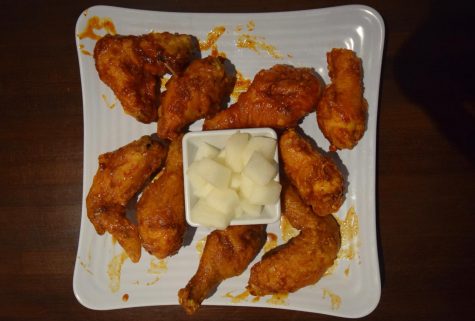 Given the immense popularity of the Bonchon Chicken franchise around America, the opening of a downtown Mountain View location on Castro Street was highly anticipated by many. Bonchon's specialty and main selling point is Korean fried chicken, but it also offers a wide variety of Asian American fusion cuisine. And, long story short, get the chicken — stay away from the rest.
Bonchon's sleek bar, flat screen TVs and bustling environment provide the perfect atmosphere for a night out with friends or family, and despite the fact that I went on a Sunday night, the restaurant was completely full.
Small Combo Plate for $12.95: six wings, three drums, half soy garlic, half spicy sauce
I had high expectations for the fried chicken, and to my delight, Bonchon met them. There are two different flavors for the chicken: soy garlic and spicy. Although the flavors are different than the conventional American fried chicken I'm used to, they complement the chicken well.
Whether it's a drum, wing or strip, you can choose a varying number of pieces to order, and the small combo plate was more than enough to satisfy my hunger. Each order comes with a small dish of pickled radish, providing a sharp palate cleanser to cut through the heaviness of the fried chicken. The chicken had a densely crispy crust and juicy meat, allowing its flavors to shine through. The soy garlic provided a sweet balance to the savory chicken, and the spicy sauce had the perfect amount of kick to it.
Bull Dak for $14.95
Bonchon's extensive Asian fusion menu prompted me to try their Bull Dak, spicy chicken stir-fried with rice cakes in a "fiery sauce," covered in scallions, onions and mozzarella cheese. It was served with white rice and the portion size was decent, but the flavors fell short. Despite the "fiery sauce," the rice cakes and chicken weren't spicy at all, and in
general the whole dish was bland and underwhelming.
Fried Calamari for $13.95
I also tried the fried calamari, which was simply fried calamari with soy garlic sauce. Considering the fact that a small combo plate of fried chicken is a dollar cheaper at $12.95, the calamari really isn't worth the price. It was bready and dry, and the chewiness made it difficult to enjoy the dish. Although the soy garlic sauce was the same, there wasn't much flavor and it left me unsatisfied.
—
The fried chicken is no doubt the defining dish of Bonchon, and if you're looking for a place to satisfy your chicken cravings, this is it. But it's not worth it to check out the other dishes on the menu: they pale in comparison to the
fried chicken and are overpriced. Bonchon's take on chicken, while not revolutionary, is different than the fried chicken Americans are used to, and is definitely worth checking out.