Bladee & Ecco2k: "Crest"
April 19, 2022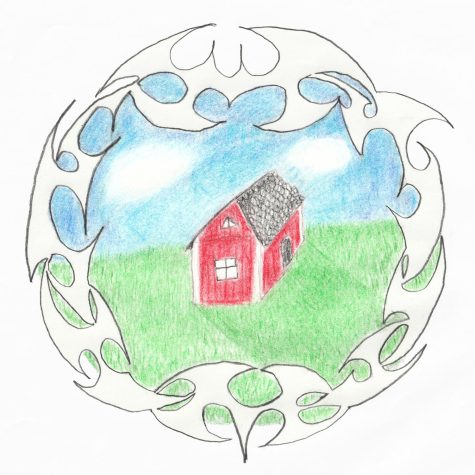 Bladee and Ecco2k are no strangers to the ethereal. Both artists, who work through the five-member collective Drain Gang, are famed for their airy and experimental brand of music that blends cloud rap (a lo-fi, hazy brand of hip-hop), alternative R&B and hyperpop. Drain Gang, whose members maintain significant solo discographies while often collaborating with each other, create music marked by Auto-Tune and spacey, dreamy beats. The duo's recent surprise album, "Crest," is different from their previous work, though: Nearly all elements of hip-hop are eschewed for a far more tender sound. Paired with the band's tendency for spiritual themes, "Crest" is an album like none the collective has ever released.
Even when the album features the duo's cloud rap, the music prioritizes melody over flow, rhyme or dense lyrics. The artists' processed vocal stylings are retained, but they're painted with more psychedelic and warm instrumentation. "White Meadow" features gleeful synth arpeggios and 8-bit-esque drum patterns backing the sentimental Auto-Tune harmonizations of Bladee and Ecco2k. In many cases, all semblance of rap structure is removed like on the progressive, five-part opus "5 Star Crest (4 Vattenrum)" and the synthpop fan favorite "Girls Just Want to Have Fun."
Existentialism is a heavy theme on the album: Much like Drain Gang's other works, "Crest" reflects on themes of death, faith and "loss and gain." "5 Star Crest (4 Vattenrum)" is a complex track dedicated to a late musical partner of Drain Gang. It runs the gamut of philosophical belief throughout its distinct sections, bouncing from reincarnation to the Christian image of heaven to nihilism to the beauty of death. "Desire is a Trap," the song's title itself a reference to Buddhist teachings, elaborates on the nature of sacrifice and perseverance through difficulty ("I claw my way towards the top and let it fall down to the bottom / Every day I swallow pain, but I still taste it").
Where much of Drain Gang's previous cloud rap felt too lost in its own vibe to be interesting, Bladee and Ecco2k's latest collaborative project maintains a consistent, dreamy mood while pairing it with pop-like structures and more memorable songs. The result is one of the collective's best albums to date, a set of songs that is as catchy and uplifting as it is thought-provoking and meditative: In its music and its writing, "Crest" feels like a manifestation of heaven.