Big Thief: "Dragon New Warm Mountain I Believe In You"
March 16, 2022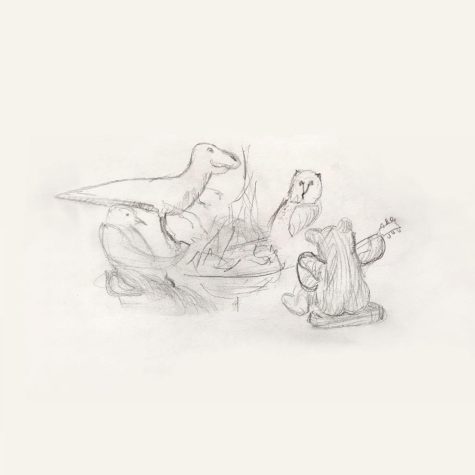 During 2020, most of us were holed up in our homes, procrastinating on schoolwork and sleeping in — we couldn't think of sightseeing or going outside beyond an occasional walk. Meanwhile, Big Thief was traveling the country, recording a double album across the Arizona desert, the Colorado Rockies, Californian canyons and upstate New York, each location with distinct recording styles and sonic plans. The goal was to "[encapsulate] the many different aspects of [frontwoman Adrianne Lenker's] songwriting and the band onto a single record," according to a band press release. The end result is an immense 20-track, 80-minute set of songs — a comforting, intimate, beautiful indie folk album that feels like sitting around a bonfire with your closest friends.
"Dragon New Warm Mountain I Believe In You" is an eclectic project, a vast album that dabbles in everything from indie rock to Americana and country to experimental rock. Listen to the first handful of songs, and you'll get a good taste of the album's diverse sound. The opening song, "Change," is an understated, introspective folk cut, backed by softly strummed acoustic guitars that highlight Lenker's voice. Her songwriting is thick with musings on life, death, heartbreak and change. The following "Time Escaping" eschews delicacy and takes a sharp left turn into psychedelic experimentation, following an idiosyncratic but infectious groove prepared by modified guitars and synths. "Spud Infinity" is lyrically and melodically more playful than the two previous cuts, evoking bluegrass in its fiddle-played melody and partially yodeled chorus.
However, even with the album's unpredictability, it doesn't feel disconnected from itself. It maintains a deeply pastoral and intimate atmosphere, held together largely by Lenker's unique, poetic style of writing. Her existential and introspective reflections on relationships, humanity and time stay consistent, as do her soft, mature vocals, both of which compliment every instrumental they find themselves on. On the distorted, trippy "Little Things," Lenker ponders the blinding nature of obsession with a romantic partner, and "Simulation Swarm" is about Lenker's "misgivings about modern life," according to an interview with Rolling Stone. The song describes Lenker's experiences with breakup, her cult-involved childhood and her biological brother whom she has never met. Lenker's lyrics aren't immediately comprehensible — upon first reading, her poetry is intricate and difficult to comprehend, but the music still conveys Lenker's experiences and emotions, in a deeper manner than her words.
Despite the album's strengths as a whole, certain songs individually fall flat. The short "Heavy Bend," which features a relaxed, looping, drum-heavy instrumental, feels unsubstantial in its aimless structure and indistinct vocal melody. "Wake Me Up To Drive," a bedroom-esque indie pop tune, has an unmemorable chorus and an energetic drum pattern that clashes uncomfortably with the otherwise mellow song. Despite some individually weaker songs, the album is otherwise remarkably consistent during its insane 80 minutes of music. The songs also aren't necessarily bad so much as slightly less interesting.
"Dragon New Warm Mountain I Believe In You" is a soothing, meditative listen, a massive set of songs that barely feels half its length. Lenker's contemplative, complex writing style fuses a wide-ranging array of sounds, one that never gets boring or repetitive while simultaneously avoiding musical vertigo through the album's many modulations. It feels nostalgic and timeless even upon first listen, like it's existed since the beginning of time. "Dragon New Warm Mountain I Believe In You" has the power to transport its listener to deserts, to mountains, to valleys and into the depths of the human psyche.