Beyond Queer Eye: Karamo Brown's new picture book inspires readers of all ages
I know I'm not special when I say that I'm a huge fan of Netflix's Emmy-winning series, Queer Eye. The show is known worldwide for its heartwarming lifestyle makeovers from the iconic group of men nicknamed the Fab Five, whose interactions with their "heroes"—the people they makeover—often spark an important dialogue about social differences and empathy.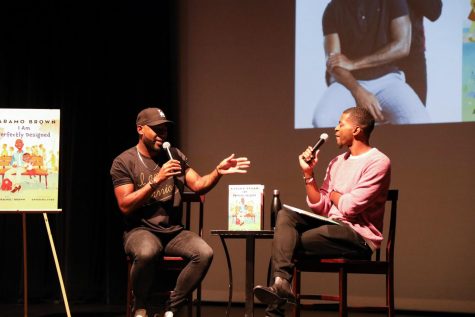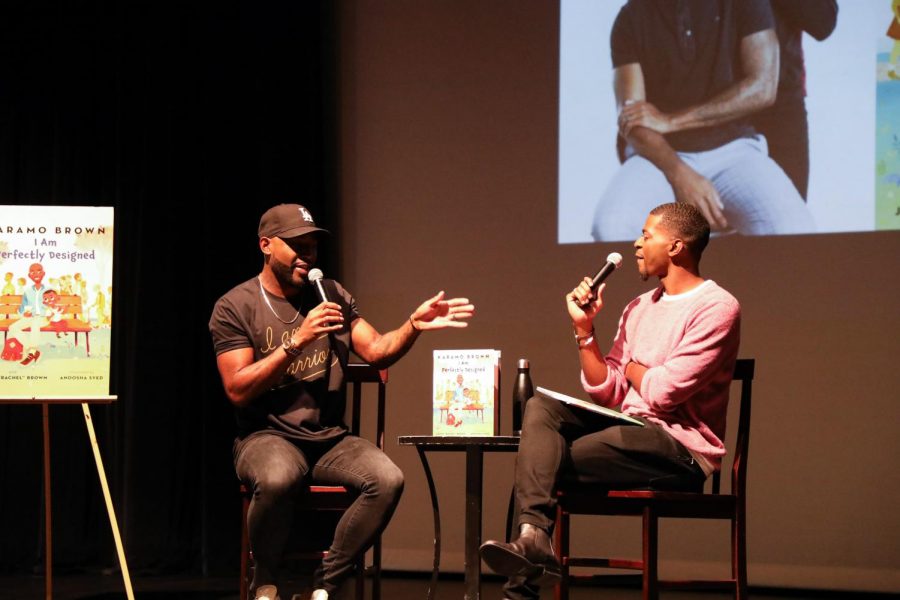 On Saturday, November 9, Karamo Brown—a former social worker and the show's "culture expert"—spoke at Los Altos's Eagle Theater about his new picture book, "I Am Perfectly Designed", which he wrote in partnership with his son, Jason "Rachel" Brown. The book follows a father and son during a walk through the city as they reflect on memories together and the ways in which they are perfect for each other. During the event, held by Kepler's Books, the two men talked about their relationship, read their book together and answered various questions from the audience.
I was lucky enough to get the opportunity to meet Karamo and Jason before the event. After I finished taking photos with them and internally (okay, and externally) freaking out, I was able to sit down and talk with them about their writing process and the message behind their book.
The book's title, "I Am Perfectly Designed," comes directly from the words that Karamo would tell Jason growing up.
"The reason I would tell Jason that is because he was bullied, and often he would feel like he wasn't enough or that he wished he had a different life," Karamo said. "If people tell you negative things, and you hear the same things over and over again, you start to believe them. Anytime Jason would feel bad, I would say, 'Instead of repeating the negative stuff to yourself, repeat something positive: that I am perfectly designed.'"
This close relationship between Karamo and Jason is mirrored in their book, but their journey as father and son was far from ordinary. Because Jason's mother—Karamo's last girlfriend before he came out as gay during high school—lost contact with Karamo and moved away before Jason was born, Karamo didn't know he had a son until Jason was 10 years old. Although Karamo may not have had a conventional start to fatherhood, he said that having a relationship with Jason has changed his life dramatically.
"What he brought to me was a sense of wanting to be better and do better," Karamo said. "I think that's what a majority of parents feel."
Jason said that he's received an outpouring of love and support from his dad over the years, but their close bond, in this case, made the writing process more difficult.
"I'm very caring, I'm very empathetic, I'm sweet, and I'm a hugger, but when it comes to dad mode, there's deadlines and responsibilities," Karamo said. 
"Yeah, it was cool working with my dad," Jason said with a smile. "Like he said, he was very strict about it, but I rose to the occasion, and I'm happy to be here."
Although the Browns first imagined the audience for their book to be young kids, Karamo said that many adults have resonated with the story's inspirational message. He mentioned that the rest of the Queer Eye cast had touching reactions when he unveiled the book; Bobby and Antoni cried, Tan was excited, and Jonathan was mad because in the inside front cover illustration of the Fab Five, the artist drew him in flats instead of heels. 
"I'm hoping that people reading this, who are either five years old, 15 years old, 25 years old or 55 years old, will remember that instead of saying something bad about yourself, say something positive," Karamo said. "It starts with just saying, 'I'm perfectly designed,' because each of us are. We were designed so that we could do great things in this world."
"We just want people to know that who you are naturally is cool," Jason said. "It's perfect."