Broken Box: Behind the Scenes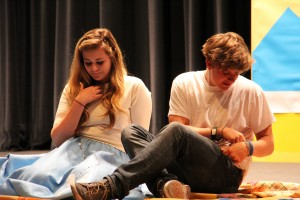 Three times a year the school's acting company Broken Box puts on a show. For three nights (Thursday through Saturday) the auditorium is transformed by these students' acting, sets, costumes and passion. No matter what play they put on (or the quality of the production) the performances are always interesting, entertaining and more than anything, amazingly well put together. We as an audience only ever get to see the finished product, and much like seeing a movie at a theater, most of us never get to see the behind-the-scenes DVD extra.
The final product of the play that the audience is always polished and clean, and although they are obviously high school productions, they are nothing like the amateur messes depicted on most TV shows. It's obvious that the students that make up the cast and crew of Broken Box put a lot of time and effort into their productions, and their process for producing one of their plays is a long one.
Starting at the end of the previous year, members of Broken Box along with drama director Nancy Moran pick out the three plays that they're going to perform during the following school year. They try and pick plays that have enough roles for all the cast members (even though often the actors will end up playing multiple smaller roles), are entertaining (they often do at least one humorous play a year), meaningful and school appropriate.
"We try to pick a strong script with a strong plot," Broken Box costume designer senior Janna Wang said. "But it's kinda difficult because we have so many members in Broken Box. So at the end of the year when we're flipping through screenplay catalogues, we have a lot to keep in mind."
The process for the new cast and crew of the next year starts with a script read. Students are assigned parts and they read the play together as a class. Then they have auditions for their first play. This year the auditions were for the first two (both Happy Daze as well as their upcoming December performance of a Christmas Carol). Once students have been assigned their parts, they start doing blocking (where each character stands or moves to, when and where characters enter and exit, and what each character is physically doing onstage) and actual rehearsal of the scenes, practicing everything from the 50's dances that some of the characters do, to the order of the bows at the end of the play.
"As we slowly started memorizing our lines and received coaching from Ms. Moran, it became a lot more fluid," senior and first year Broken Box member Michael Johnson said.
Later on in the rehearsal process they move practice into the theater and start rehearsing on the actual stage. As they approach the week of the shows they start adding in elements of the costumes and props that will be used during the show – although really most of this happens during tech week.
For each show, Broken Box has three nights of "tech week" before the show. They stay at the theater from four to nine at night from Monday to Wednesday before their three nights of shows. The cast and crew do constant run-throughs, often pausing and re-doing or changing scenes if either the actors or Moran want to change things. During this rehearsal period, props and costumes are constantly being added. Characters will exit and then come back for another scene a couple minutes later with more of their costume added on.
"Sometimes during tech week people will change their characters just because they got a new hat added," Janna said.  "They'll incorporate the personality of the hat into their character. People put on their costumes and it just makes them so much more energetic. It's almost like a game of dress-up."
After running through the play, they all sit down and Moran goes over her notes with them and places that need to be changed or expanded. Then they run it again.
While members of Broken Box put in tons of effort before tech week starts, it's amazing to see the transition from the still very rough version that they rehearse on the first night of tech week to the polished version that the audience sees during the performances. There are many things that contribute to the stark change from rehearsal to performance, but a few that stick out in particular.
The first of these is costumes. Janna and her assistant junior Amanda Choy are in charge of costumes for the productions.
"When I first get the script I immediately pay more attention to the characteristics of the characters than the plot," Janna said.
They have a multitude of costumes and items of clothing from previous years from which they try to "pull" as many items from as they can for the current production. They spend a large amount of time going through costume pieces that they already have, trying to create combinations that will work for certain characters.
"We look at everything we have … [and] we'll put together everything that could be 50's," Janna said. "We'll go through and see what fits based on our discussed idea of [each character]."
They do buy costume items that they don't have, but they try and use as much of what they have as possible (which means being willing to alter older pieces in order to make them usable in the current show). Before starting the entire process, Janna and Amanda come up with the perfect outfit for a character. They then share these to everyone in Broken Box, asking them to bring in parts of their own wardrobe to use in the costume if they have things that are applicable.
Other things that contribute to the end result are the lighting and sound. Senior Laura Lee and junior Cori Blasing are in charge of designing all the sound and music for the shows.
"The process of finding the music and sound effects for this show was actually easier for me than earlier ones, mostly thanks to Cori," Laura said. "The first week of school she comes up with a list of music for the show. She had found all the music over the summer so that saved us both a lot of work. All that was left was to find the sound effects, most of which I had from previous shows."
In their most recent production, "Happy Daze," the use of music and sound effects allowed transitions between time periods to be fluid.
"[The sound is] just another way for the audience to enjoy and really experience the world of the characters," Laura said. "It makes the acting more fun for the actors. In the end my job is to support the actors and give the audience a show to remember."
Leave a Comment