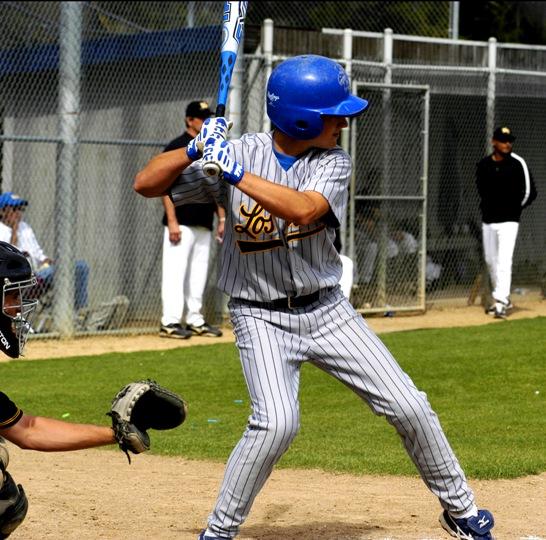 Freshman Steven McLean
gets ready for the pitch at home plate while wearing a uniform from a previous year.
The baseball team threw the Mountain View team a curve ball when it took the field dressed in old school uniforms on Monday, April 19.
The team chose to wear uniforms from about 10 years ago for its home match. Head Coach Sandy Wihtol supplied the uniforms, which he had kept from seasons past.
The old grey uniforms featured thin black pin stripes and the hats were black. The black was different than the current royal blue, the official school color now. The gold-and-black theme continued with the stitching of Los Altos on the front of the uniforms and the numbers on the back of the uniforms.
"I like the hats," senior Sasha Zebb said. "They have a vintage look."
Story continues below advertisement
But the uniforms did not only serve an aesthetic purpose, as they bolstered team spirit before the game as well.
"Everyone was pumped to play before the game and to wear them," pitcher senior Keegan Kliman said.
The Eagles lost to the Mountain View Spartans 4 to 1, though spirits were high as the team wore its borrowed uniforms.