Barker's track: From mentee to mentor
Sarcasm, fist bumps and Capri Suns seemingly have nothing in common. But, in fact, they do. They are "Barkerisms," a term coined by AP Literature, Film Analysis and New Media Literacy students to describe some of teacher Robert Barker's most unique traits.
Barker uses his role as an educator to empower and support his students in the same way that his coaches and mentors did, guiding him along his journey from aspiring screenwriter to English teacher.
Barker grew up in Long Island and was the youngest of four siblings. He was the first male in his family to graduate from high school. After his two older brothers did not finish school, Barker's mother was the person who pushed him to take academics more seriously.
"I think my mom was very motivated when she had me to get things right," he said. "I didn't like it at the time, but she kind of clamped down on me and disciplined me a lot, so I had an advantage in that respect."
Looking back, Barker describes himself as an average student. His teachers commended him on his writing, but he spent most of his time on his high school track team where he found his calling. He ran all four years in high school and even managed a 4:04 in the 1500 meters his senior year.
"[Track] just gave me an identity," Barker said. "I wasn't a burnout, I wasn't a jock, I wasn't a super academic achiever. That was kind of my home."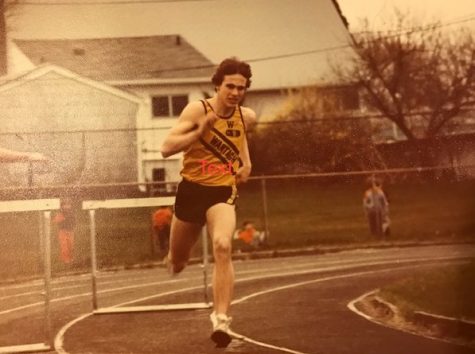 Barker connected with his coaches because they provided a guardrail for him during high school. His parents divorced when he was 10 and his dad did not play a significant role during his adolescence. His track coach, one of his many supporters, resembled a father figure for Barker.
"They didn't stand in for my dad, but they showed up and they kept me going when I was at a point in my life where I could have gone the wrong way," Barker said.
Barker continued his track career at Lafayette College while double majoring in government and history. Up until that point, being an English teacher was not his intended career; he wanted to become an attorney. But then, at age 22, his whole life changed when his father died of a sudden heart attack, forcing him to reflect on what he wanted to accomplish in his life.
Barker's mindset following the passing of his father was one of growth. He took a risk to enter a new field and eventually decided to get a Master of Fine Arts (MFA) in creative writing, graduating from San Francisco State University. Since teachers had always admired his writing, he was encouraged to study it at the graduate level.
As a part of the playwriting program, Barker's friend wrote a successful play that attracted positive press. One of the producers asked his friend whether he had a screenplay, and Barker told his friend to lie and claim that they had one. Within 48 hours, the two wrote a screenplay and were invited to Los Angeles to meet with the Creative Artists Agency (CAA), the nation's most prestigious talent agency. Although their efforts didn't translate to the big screen, the experience inspired Barker to continue pursuing screenwriting. He later moved to Los Angeles and spent a few years trying to sell a screenplay to no avail. He then worked on closed captioning for entertainment television and other temporary jobs.
Some of his friends in Los Angeles told him that the Los Angeles Unified School District (LAUSD) was hiring. Before leaving San Francisco State University, Barker was one of a few graduate students who was hired to teach freshman creative writing as a part-time job. However, he was initially opposed to the idea of teaching.
"I just had zero interest in it," Barker said. "I said I don't want to teach teenagers. But I was kind of out of rope. And I was like, 'I gotta have a plan B here.' So I went and said I wanted to be a history teacher and they weren't hiring history teachers. They said, 'We need English teachers,' and I said, 'okay.'"
After a short six weeks of training, he was sent right into the classroom.
"I felt like I had things to offer because I had been through a lot in my childhood," he said. "Not as rough as the kids that I was teaching, but I definitely had experience with not having enough money [and] some really bad things that I witnessed when I was a kid."
For the first time in his life, Barker had a job that made him eager to go to work every day. From teaching in new LAUSD schools to a private all-girls school, he gained experience in learning how to communicate with students from all backgrounds. Barker strove to advocate for his students outside the classroom, just as his track coach had for him.
Midway through 2012, he found a teaching opening for English at Los Altos after a new teacher left abruptly. After giving a teaching demo in Keren Dawson-Bowman's class, Barker joined the Los Altos faculty midway through the 2012-2013 school year.
"I remember thinking I was glad he was a 'seasoned' teacher and felt like we were lucky to get him when I heard more about his background in screenwriting, having taught in Los Angeles, and his being from [New York]," English and Global Connections teacher Michelle Bissonnette said.
The design of Barker's classroom shows how much he prioritizes his students. On one of his walls is a whiteboard where students can schedule conferences. Students can sign up to talk to Barker about anything before school, third period, lunch or during tutorial.
For senior Aditi Madhok, a third year New Media Literacy student and also one of Barker's AP Literature students, she not only recognizes and admires his devotion to his students but also appreciates how he lets his students think independently.
"He's careful to not impose his ideas upon people because he really wants students to think for themselves individually and critically," Aditi said. "But he also just is constantly challenging students, constantly challenging the education curriculum, how it could be creative, flexible, and more student-led."
Barker's childhood allows him to be empathetic towards his students. He tries to understand how his students are doing, helping foster a more positive and inclusive classroom, as well as student/teacher dialogue.
New Media Literacy lead anchor and Film Analysis student senior Gurshaan Arora also sees Barker twice a day, during first and fifth periods. And although he admits that Barker can challenge students to complete more difficult tasks, he sees how it is beneficial.
"He makes an effort to get to know the students and he's pretty involved, not in the overbearing sense, but in the sense that he enjoys making sure that we understand the work," Gurshaan said.
Barker attempts to push out the boundaries of conventional teaching by giving his students the true freedom to think independently. Whether it is creating a digital sandbox for students in New Media Literacy or sharing complex poetry with AP Literature students, it is through his urge to help his students think critically and independently that he manages to build strong relationships, allowing him to advise his students in all facets of life.
"I am constantly reflecting on what could be better in my own approaching," Barker said. "And if you think you've got it all figured out as a teacher, you're in a bad place."
Staff Writer Lucas Bricca contributed to the reporting of this story.