Bullis Charter School sues Los Altos School District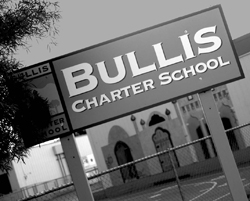 After years of dispute between the Bullis Charter School and the Los Altos School District (LASD), a Santa Clara County Superior Court judge appears to have come close to a ruling on the lawsuit between the school and the district.
After receiving approval from Santa Clara County for the school to expand to both seventh and eighth grades, Bullis officials claim that LASD is not giving the charter school the facilities and land that it needs to expand.
Bullis' main argument in the case is that under Proposition 39 the district must provide the 300-student charter school with "adequate facilities, equivalent to other local schools." LASD however, claims that Bullis Charter School never intended to offer seventh and eighth grade at the school, so there was no reason to give Bullis more land than it needed.
Attorneys for Bullis Charter School claim that the district has counted areas such as the soccer field at Egan Junior High School as a part of Bullis in order to make it appear larger on the map, even though Bullis students do not have constant access to those facilities.
While the lawsuit is being looked at by the Santa Clara Superior Court, Bullis Charter School has yet to find an area of land that is suitable for permanent residence.
According to the district, the charter school cannot join the current Bullis-Gardner Elementary School at its site because combining the two schools would exceed the Bullis-Gardner site's student capacity of 420 students.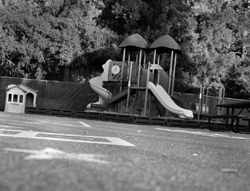 Bullis Charter School is suing the Los Altos School District in order to move to the former Bullis-Gardner location.
"The past three times that [Bullis Charter School] has sued the district over this same issue, the courts have ruled in favor of the district," Superintendent Tim Justus said. "I'm not sure how this judge will rule."
Justus said that the district is discontent with the numerous lawsuits and sees it as a waste of valuable resources which could be better spent.
"It's very frustrating that the charter school continues to sue the district over this issue of facilities," Justus said. "The funding it takes to defend the district's position comes out of our general funds and away from educating students."
Under state law the judge on the case has 90 days after the hearing to decide to whether the district is in violation of Proposition 39.
Leave a Comment