AVID Students Take Part in Annual Regional Writing Competition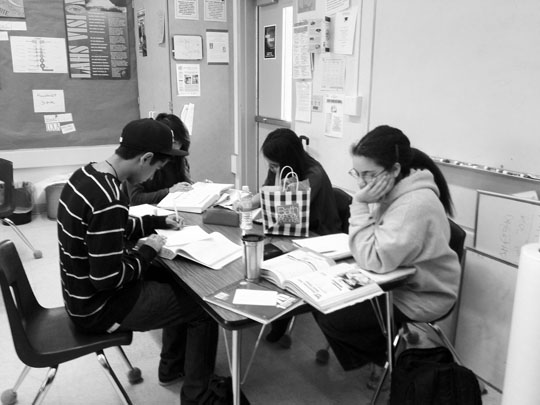 During the week of February 6, Advancement Via Individual Determination (AVID) students will participate in the annual AVID writing competition. After the writing test, teachers will pick the top three papers from each grade level and submit the essays to regional judges who will choose the winners.
This year's theme is student activism. In past years, AVID students have written on issues ranging from equality to the impact of social media on interpersonal relationships.
Teachers are given writing prompts, which they integrate into the classroom curriculum to prepare students for the February competition. Each AVID class has 45 minutes to complete the writing test.
"It's really [about] practicing critical reading skills and being able to explain and critically analyze a writer's argument, and then support your own stance in what extent you agree or disagree with the writer," AVID teacher Joanne Miyahara said. "[Students] integrate evidence from both text that's provided and other sources."
Ninety-one schools in Region Five participate in the AVID competition. Region Five encompasses schools in Monterey, San Benito, Santa Clara and Santa Cruz counties. Each school has the option of participating in the competition. Winners of the competition receive a monetary gift and a plaque. In past years, the AVID Department has had success at the regional competition. Last year, Olivia Palmer, '11, was one of the winners.
Once teachers select the essays to submit to the regional competition, they notify the top three writers from each grade and invite them to attend the AVID writer's conference. In past years, the conference has taken place at Stanford University, Santa Clara University and San Jose State University. While at the competition, students participate in workshops led by college professors.
"[Workshops] range from everything such as using voice to rhetorical strategies or more practical [topics] like building your college essay," Miyahara said.
The creators of the test modeled the current version off of the California State University (CSU) English Placement Test. Their goal is to prepare AVID students for what they might encounter later on in their academic careers.
"The big picture is really helping all students get ready for college level writing," Miyahara said.
The writing practice not only prepares AVID students for the February test, but also for other timed writing tests during their academic career, such as the SAT and the ACT. Although the time allotted for each of the essays is different, the concept is still the same for students.
"I feel it does prepare you for the SAT in a way because you experience how it's going to be," senior Cristin Marin said. "You have this amount of time and you have to [write] an essay in that amount of time."
The competition practice also helps students become stronger writers in general. Practicing writing prompts in English class helps AVID students with their other classes.
"I've been in AVID since seventh grade," junior Bhavdeep Singh said. "I was a poor writer, but as I did more prompts and practiced, I got better. It teaches me how to write quicker and analyze in a shorter amount of time."
Leave a Comment