Aurum: Tradition meets a modern twist
November 6, 2021
When you think of Indian food, chicken tikka masala and garlic naan usually come to mind. But at Aurum, a downtown Los Altos restaurant listed as a "new discovery" by the Michelin Guide, chef Manish Tyagi aims to expose his patrons to Indian food that goes beyond the common stereotypes.
"The idea is to pick up any forgotten recipe or place, and then convert it into something with a twist and present it," Tyagi said.
This combination of the traditional and the modern, as well as drawing from cuisines from all over India, allowed Tyagi to create a menu of dishes he hopes will prompt both South Asian and non-South Asian guests to reconsider what Indian food can be.
"We try to make a statement with each dish, so that they can evaluate themselves how it is different from other Indian restaurants they've been to," Tyagi said.
After talking with Tyagi, we decided to try some of his most popular dishes and share our experience at Aurum.
Appetizers
Mr. Potato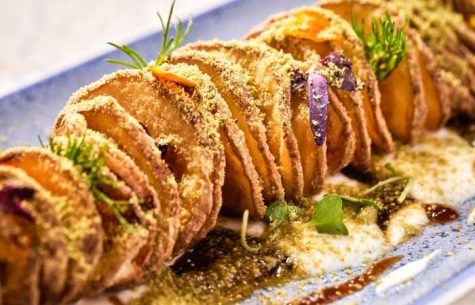 Mr. Potato features a crispy roasted swirl of potato, lightly dusted with cumin and a sprinkling of fresh herbs rested on top. The skewer rests in a nebula of yellow peas, tamarind, light creamy yogurt and a rich green cilantro chutney.
This appetizer garnered mixed thoughts. While the potato spiral lacked flavor, and its texture could be described as cardboard-esque, the sauces it rested in added the freshness and flavor the potato itself was sorely lacking. The dish was difficult to eat, and it became a team effort to get individual portions of the potato off the skewer. However, the spiraled potato added a layer of textural interest to a dish that can often verge on mushy, and the cumin and other spices were nicely balanced.
Brassica Beets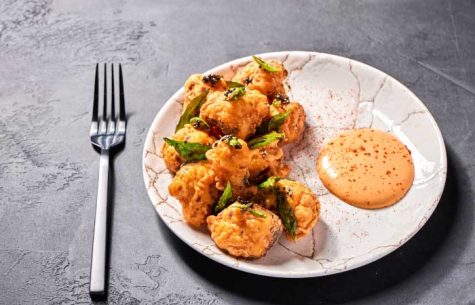 The stack of cauliflower florets come deep fried in a thin, rich golden breading with a dollop of spicy chili aioli to the side and a sprinkling of mustard seeds. The floret coating is slightly sweet and packs a punch of cumin in every bite.
We're big cauliflower fans, so we were excited for this vegetarian twist on a traditionally meaty dish. Unfortunately, the delightfully crispy coating was the only thing going for this dish, although it nearly compensated for the under-seasoned and slightly undercooked cauliflower. The sweetness of the sauce coating the florets was overpowering, and the chili aioli wasn't spicy enough to provide some much needed contrast. As well, the plating of the dish left much to be desired visually; the cauliflower seemed carelessly piled up, and there wasn't much variety of color on the plate.
Entrées
Dum Khumb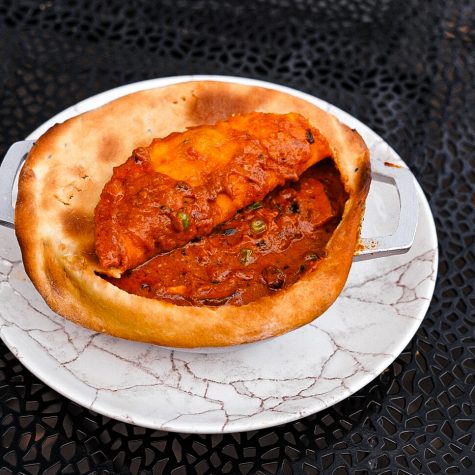 This fusion of an American pot pie and little-known Khumb (button mushrooms) side dishes contains a three-mushroom medley of chanterelles, shiitakes, and oyster mushrooms, all baked in a creamy tomato sauce, known as lababdar. The pie is encased in a pastry and the filling also features green peas.
This dish was one of the standouts of the night. As the server punctured through the dish's buttery pastry, the delicious aroma of the steamy mushroom filling dominated the table. The filling's velvety lababdar gravy had a perfect balance of spice and umami; unfortunately, though, it covered up the difference in flavor between the types of mushroom. The addition of baked green peas was reminiscent of American pot pie, but added a welcome freshness and contrast to the dish. The flaky pastry covering the dish was paired delightfully with the filling, adding another layer of butteriness and texture, but the mushroom-to-pastry ratio was rather high. That said, the mushroom filling paired wonderfully with naan, adding versatility to this already phenomenal dish. While this dish's South Asian roots were not immediately obvious, the rich mushroom medley is a staple side dish recipe, and we couldn't help but rave about Dum Khumb with every bite.
I'm Not Pasta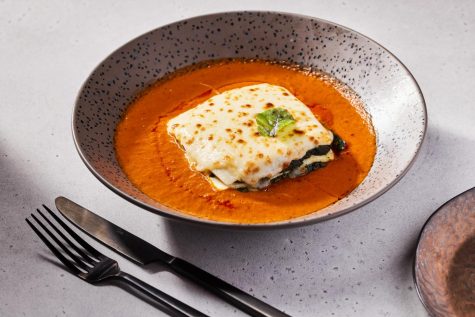 I'm Not Pasta reimagines saag paneer, a classic Indian dish made with spinach and a fresh cheese called paneer, as a lasagne. The square layers of spinach and cheese are surrounded by a tomato-based sauce, seasoned with garlic and traditional fenugreek leaves.
This lasagne was disappointing. After learning this was the dish that Tyagi won "Beat Bobby Flay" with and hearing friends' glowing reviews, we came in with high expectations. The word "lasagne" and this dish only seem to be tangentially related by the structural components of the layers. The paneer, a pasta substitute, was baked to aesthetic perfection with a crunchy golden layer of bubbles covering the top of the lasagne, but the cheese's unusually rubbery texture coupled with its uneventful combination with the spinach made this one of the most mediocre dishes of the meal. The sauce, which packed most of the flavor in this dish, was absent between the layers themselves, making the lasagne incredibly dry and lacking in flavor. Unfortunately, the one dimensional flavors and texture left us wondering what made this the supposed standout Aurum dish.
Only At Aurum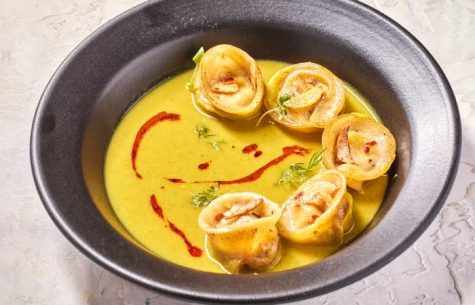 "Only at Aurum" is Tyagi's take on bihari pithi pockets, featuring pickled potatoes, yellow lentils and chili flakes. The spicy potato filling is wrapped in a chewy yet crispy whole wheat dough dough, and surrounded by a lentil sauce.
Only at Aurum is one of the few dishes in our selection that was actually spicy, and we adored the unexpected punch of chili bursting from its potato samosa-like inside. However, the five small pockets are overwhelmed by the daal on the plate, and if you're sharing, you'll probably hope for a flip in the plating ratio. We'd suggest asking for a hefty order of naan to scoop up the leftover lentils on the plate. That said, we really appreciated the inclusion of the less-appreciated Bihari cuisine, which comes from northern India. This wasn't something we'd ever encountered at an Indian restaurant, and even the South Asian people in our group were exposed to something new. While the food itself wasn't particularly memorable, the inclusion of this dish itself was commendable.
Garlic Naan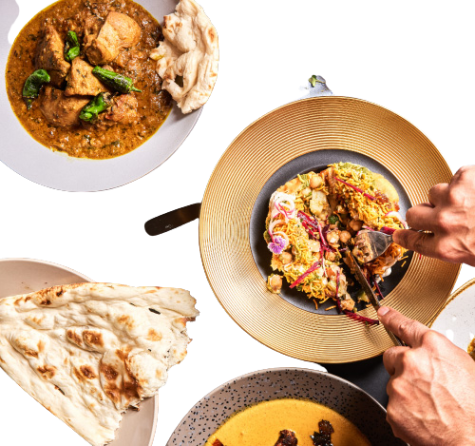 Aurum's garlic naan is aptly named: this side consists of traditional naan bread covered in caramelized garlic, herbs, and butter.
Naan is usually the most unmemorable part of a dish and is not often reviewed for that very reason, but this was a joyous exception. The garlic naan at Aurum is everything garlic naan should be: crunchy but soft, garlicky but not overpowering, buttery but not greasy. The caramelized garlic effortlessly melted into the fresh steaming bread, and we can confidently say that this is one of the most perfect garlic naans we've ever had the pleasure of eating. This side complemented the rest of our meal beautifully, adding a punch of garlic and a delicious vehicle for the sauces of each dish.
Desserts
Toffee Pudding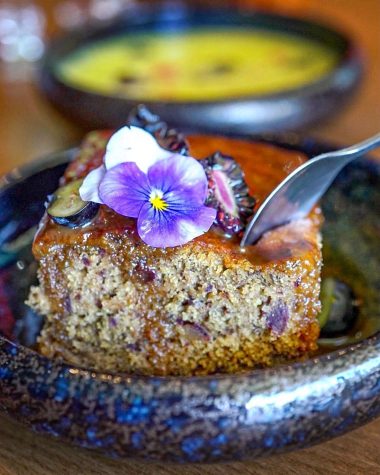 Aurum's toffee pudding features a light sponge cake, covered in and surrounded by a rich, syrupy toffee sauce and is served in a deep dish filled with additional toffee sauce, garnished with blueberries and flowers.
Gorgeous and delicious, this toffee pudding is worth ordering even if you can't think of stuffing your face with yet another delicious dish. In its bed of sweet caramel sauce, the moist sponge cake looks almost too delicate to spoon through. Once you do, though, you're met with a satisfying ooze of that same velvety toffee caramel glaze. The sauce was wonderfully buttery and sugary, without being cloyingly sweet or too rich, and the array of spices perfectly complemented one another and matched the cozy flavors of the autumn season.