ASU organizes Lunar New Year celebration
The Asian Student Union (ASU) hosted a celebration for Lunar New Year on Friday, January 31. Lunar New Year took place on Saturday, January 25, but ASU held the event later due to scheduling issues. Students celebrated with traditional foods, games and a rotary service project for children in Vietnam. 
Last year, the club organized a celebration for club members only, but this year, they decided to have a school-wide celebration so that all students could get exposure to Asian culture.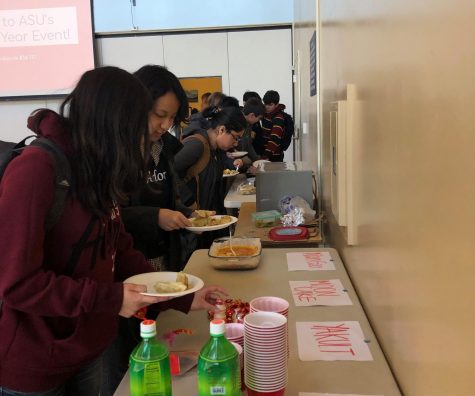 "We want students to learn about these cultures and how to celebrate them appropriately," club president senior Rebecca Pan said. "We want people to appreciate them instead of appropriating them."
Club members brought traditional foods such as Nian Gao, dumplings, mooncakes and green onion pancakes. 
Students could also engage in the Vietnamese rotary service project, in which they wrote letters of encouragement and drawings for children in Vietnam who are vulnerable to human trafficking. They intend to motivate these students to continue to pursue education with the scholarships they receive from this service project. 
The club hopes that events like these will motivate more students to raise awareness of Asian culture in Los Altos. 
"It would be good if [students with different cultural backgrounds] joined the club because in Los Altos there are such high levels of diversity," junior Natalie Tran said. "It's important to be able to understand other cultures rather than treating them as something alien."