Assemblies Should Include More Active Student Participation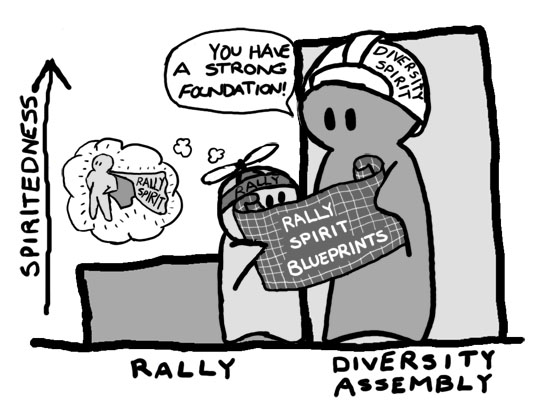 For as long as current students can remember, school assemblies have nearly always followed the same basic format: sports captains introduce their teams for the season interspersed with club announcements, cheer routines and dance performances. The seniors cheer from the stands when they can finally call themselves second semester seniors and freshmen fight to pull their weight in the sleeping bag race.
But going through the motions doesn't hide the fact that our school could definitely do with more spirit. Although the rally accomplishes its goal of bringing the school together to some extent, more could be done to get students more interested, involved and invested in the school.
The school is certainly capable of holding successful assemblies, particularly when they are more accessible to the student body and showcase student talent. The Diversity Assembly, for example, gives all students the opportunity to share their cultures and special skills, generating a lot more student interest and involvement.
ASB has already taken steps in the right direction by allowing active clubs to make announcements during sports assemblies, giving students a chance to share their goals and accomplishments with the school and to recruit new club members. However, active demonstrations like those in the Diversity Assembly would be much more engaging. For example, instead of just talking about their agendas, Persian Club could perform a cultural dance while members of the Slam Poetry Club could present a few of their poems.
For many of us, the most class loyalty we feel is during the two-minute tug-of-war competition when our peers fight for class dominance (and bragging rights). Other local high schools have innovative methods for encouraging friendly inter-class competition, and our high school can draw inspiration from their examples.
For example, Monta Vista High School has a basic sports assembly structure that is similar to that of LAHS, with dance performances and recognition of sports teams. However, students at Monta Vista also participate in a class cheer competition, which not only increases student participation but also a sense of class loyalty.
Assemblies can also be used as a means for educating students about different topics in a meaningful way. At Gunn High School, educational assemblies are hosted several times a year on topics ranging from health to fine arts, with an emphasis on featuring student speakers. One of the assembly's held last year, called "Not in Our School," focused on identity safety in school and developing greater acceptance for all community members.
The entire school congregates only a few times every year, at the assemblies held every few months. It is important to make the most of those times to share interests and talents, and to take pride in our common ground. ASB should do their part in opening up more opportunities for student participation and meaningful learning, and students should keep up their end of the bargain by responding to efforts to raise school spirit through actively taking the opportunities to share their talents.
View Comments (3)