ASB Around the World: How Does Los Altos Compare to Other Schools?
November 14, 2017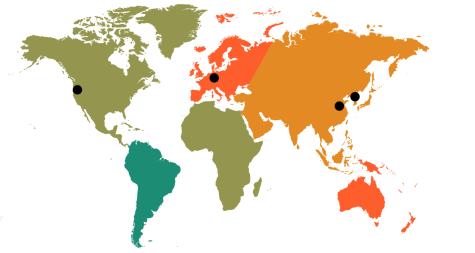 Seoul Foreign School, South Korea
At Seoul Foreign School, students must go through an extensive application process that consists of a one minute video introduction and a three to five minute speech. Both components are presented to the class and are voted on by students. However, students must have high grades and a teacher's approval before they can even hope to run. Past that, strict rules on what can be in the campaign videos and speeches exist to further put the campaigning process under administration control. For example, because the school is religious, lyrics and references to "Jesus Christ" are expressly prohibited. Once voted in, student council is meant to be the voice of the student body and plan student activities such as Homecoming, however, as a private, religious school, most decisions are made top-down through administrators.
Yao Guang Secondary School, China
At Yao Guang Secondary School, teachers are often strict and meticulous about student work due to the school system's highly competitive environment. Yao Guang has no leadership group or activities, andmost kids aren't interested in maintaining one because they're too preoccupied with the immense amount of homework. Without a student government to bring kids together through group activities, Yao Guang students are encouraged to forgo social interactions with their peers for the sake of education.
Gymnasium Hochrad, Germany
Instead of holding individual elections, Gymnasium Hochrad in Hamburg allows students to campaign in groups of seven to become the school's next student government. Individuals can vote for their favorite group based on the yearly plan of events that each group presents to the student body, but more often than not, the winning group is often inactive for most of the year. Diversity is a prominent issue since students often choose to run with their friends, and the goals that they set during the election either have a very limited impact or are left unfulfilled. As a result, most of the student body is uninterested in the efforts of the student government.
McMinnville High School, Oregon
The McMinnville ASB class, which tries to unify the student body, fails to translate their school's diversity in their own headquarters said McMinnville ASB member Emily Smith. With a small class of about 30 students, friend groups are seemingly clear as it is noticeable what cliques are within their ASB. By having this division in the class, they falter in standing by the organization's motto "to unify the student body." Moreover, in the past, while many students often wanted to help with events, ASB was reluctant to accept an outside perspective. The organization hopes to make a change to reflect their goal to promote inclusivity all throughout the school into their own classroom.