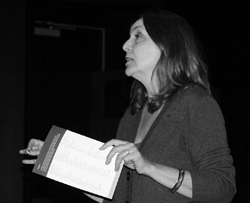 Penelope Jones presents for USC's Roski School of the Arts.
Throughout October, a total of 23 presentors from art universities, colleges and professionals in the field of art visited the school to participate in the 2009 Art School and Career Showcase.
Art Department Coordinator Christine An pioneered the college visits, which focused on the elements of film, design, fine art, photography and digital media. According to photography teacher David Roberts, the program was implemented this year to encourage students to consider pursuing a career in an art field.
The program was structured similarly to current college visits; students could have signed up online through Naviance to attend. Unlike college visits in the past, the Art School and Career Showcase visits were held in the Eagle Theatre instead of the College/Career Center.
Story continues below advertisement
All students in the district were welcome to attend, including those from Mountain View High. Parents, faculty members and administration were also welcome to learn more about careers involving art.
An contacted each of the schools and presenters in hopes of giving students the chance to "get a bigger picture of what is available to [students]." She selected the "top 10 art programs" based on prior experience and "general knowledge."
Speakers included multiple college representatives, professors and professional workers in artistic fields, whose purpose was to expose students to possible futures in art careers.
"I felt like we have a lot of creative, talented students, … but they are not clear about types of schools that they can go to and a variety of career choices they have after going to art school," An said. "I thought maybe it would be good to give them that kind of information and choices."
The Art Department created a brochure, which is in art classrooms, listing certain available majors for students.
Art Department staff members encouraged other departments to bring classes to the presentations, and classes such as Yearbook have also taken advantage of the showcase. According to Roberts, the visits have been "very successful."
"This is a great opportunity, and we got a lot of good thumbs up from the administration," Roberts said. "I'm just really encouraged that we can do this."
Some students found the presentations helpful as a factor in their career-making decisions.
"I'm really interested in architecture—that's the career that I want to pursue," junior Arista Jusuf said. "It helped me a little bit more because it gave me a more realistic kind of view on what architecture would be after I graduate."