Art Club Spreads Art Throughout Campus With "Art Bomb"
The Art Club scattered plastic artwork throughout the school to greet students on Monday, April 2.
The Art Club refers to this artwork as an "art bomb," which is an imitation of a flashmob using artwork instead of dancing.
"It allows students to interact with art," Art Club President senior Catherine Li said.
At the beginning of second semester, the club decided that this would be one of its projects. After researching online and communicating with students, art teacher Alice Lee offered the club the idea of the plastic mannequins.
The club designed the figurines by using members as models, wrapping them with Saran Wrap and then covering the wrap with tape. They then cut the members out of the tape to finish their artwork.
"This [project] allows everyone to appreciate art in real life," Catherine said. "You don't need to go to a museum to see beautiful artwork."
Aside from this art bomb, the Art Club is planning future projects. Currently, it is collaborating with the Green Team to do a beautification project throughout the school.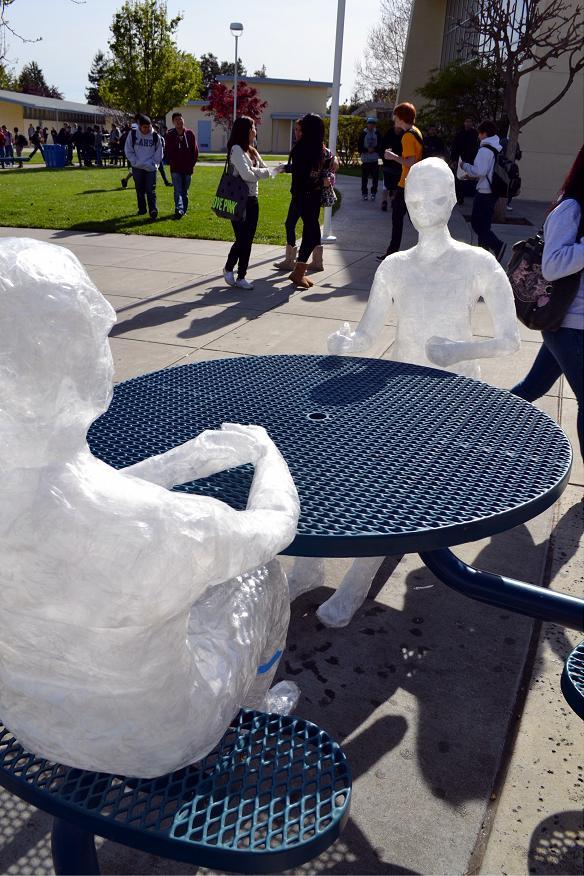 Leave a Comment