Appetizers
November 6, 2021
Mr. Potato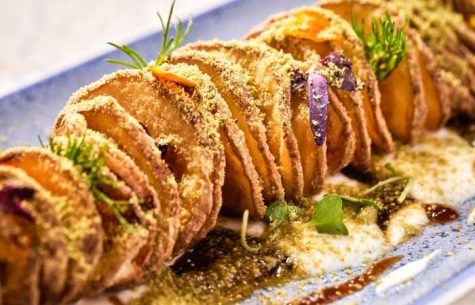 Mr. Potato features a crispy roasted swirl of potato, lightly dusted with cumin and a sprinkling of fresh herbs rested on top. The skewer rests in a nebula of yellow peas, tamarind, light creamy yogurt and a rich green cilantro chutney.
This appetizer garnered mixed thoughts. While the potato spiral lacked flavor, and its texture could be described as cardboard-esque, the sauces it rested in added the freshness and flavor the potato itself was sorely lacking. The dish was difficult to eat, and it became a team effort to get individual portions of the potato off the skewer. However, the spiraled potato added a layer of textural interest to a dish that can often verge on mushy, and the cumin and other spices were nicely balanced.
Brassica Beets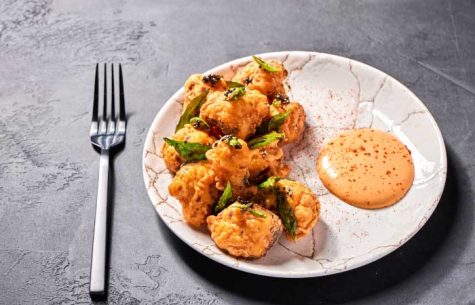 The stack of cauliflower florets come deep fried in a thin, rich golden breading with a dollop of spicy chili aioli to the side and a sprinkling of mustard seeds. The floret coating is slightly sweet and packs a punch of cumin in every bite.
We're big cauliflower fans, so we were excited for this vegetarian twist on a traditionally meaty dish. Unfortunately, the delightfully crispy coating was the only thing going for this dish, although it nearly compensated for the under-seasoned and slightly undercooked cauliflower. The sweetness of the sauce coating the florets was overpowering, and the chili aioli wasn't spicy enough to provide some much needed contrast. As well, the plating of the dish left much to be desired visually; the cauliflower seemed carelessly piled up, and there wasn't much variety of color on the plate.