AP Human Geography Diversifies Social Studies Department
With already rigorous course options and limited choices, all students deserve the chance to study the world in a new light, from interpreting maps to using satellite images and aerial photographs. The AP Human Geography course offers each one of these opportunities and much more to its students. Next year, AP Human Geography will be offered to all sophomores as another option similar to AP Modern European History.
Although the school removed a geography class a few years ago because it was found unnecessary, AP Human Geography will allow students to learn about the different patterns and processes regarding alteration of the Earth's surface. While developing abilities of spatial intelligence and landscape analysis, students will be able to analyze effects and consequences of human social organization. Because this course offers a variety of applications and skills, AP Human Geography should be offered to upperclassmen as well.
AP Human Geography covers a range of topics including population growth, cultural patterns and processes and urban development. Junior Sean Adibi, who took the AP Human Geography test after self-studying, sees the benefit in this type of class.
"What's really important about AP Human Geography is that it helped me learn the trends of geography," Sean said. "Different overarching ideas that were really helpful in making me learn more about how humans interact with the land they're on and how they work with one another. I thought that was really important for my future as well."
One of the main focuses of this course is to interpret maps and examine geospatial data. The goal is for students to be able to use these skills in problem-solving situations and think critically based on what information is given in different maps.
Another targeted topic is identification and comprehension of the relationships among certain patterns and processes. Students are able to understand that the situation they are studying at one scale may well be influenced by processes and developments at other scales, such as a shift from local to global circumstances. These kinds of skills are applicable to all students who can have the opportunity to apply their geographical knowledge to their surroundings.
"[AP Human Geography] should be offered to more than just sophomores," Sean said. "If it was offered to the entire school, I would have taken it next year, just for my own enrichment. It's a really important class, for all people to take geography, to understand where they are, where their surroundings are, how it plays into their lives."
Additionally, AP Human Geography allows students to define global regions and evaluate the regionalization process. Students not only describe geographical patterns but analyze their derivation and significance. While studying multiple regions through analysis and exploration, they move beyond locating and describing regions to interpreting what they reveal about the changing character of the world.
Compared to other social studies courses, including AP United States History (USHAP) and AP European History (MEHAP), AP Human Geography offers multiple perspectives rather than focusing only on certain areas of the world.
Furthermore, this course enables students to characterize and distinguish changing connections among areas. Students can view places and patterns not alone, but in terms of their spatial and functional relationship with other places and patterns. They are able to become aware that those relationships are constantly changing, and they can understand how and why change occurs.
Providing numerous areas of interests to appeal to a variety of students, AP Human Geography is a beneficial class which teaches students several skills not utilized in other social studies courses. However, it should also be open to juniors and seniors interested in an elective humanities course, as the school is lacking in non-required English and social studies classes.
By reinstating a geography-based class, the school is taking steps toward validating the worth of liberal arts courses. While STEM education is vigorously worked into the school's curriculum, it is also valuable to showcase the relevance of other fields and give students just as many options in the humanities as they have in STEM.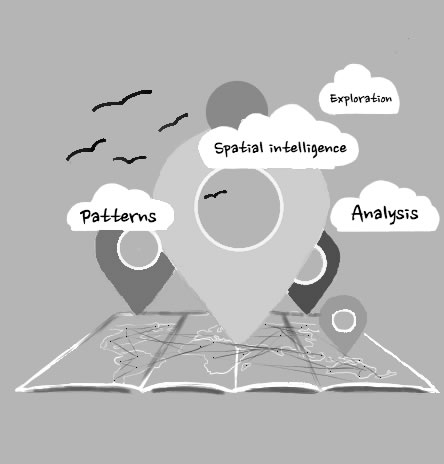 "I do think it's important that within MEHAP or USHAP curriculum, or sophomore or freshman history, that we get a better understanding of the entire world around us," Sean said. "It's necessary to learn about all the different countries that make up the world rather than solely focusing on the specific area which we live in."
Leave a Comment