Anooshkha Shetty: Girl Scout takes on child trafficking
During a trip to India last summer, sophomore Anooshkha Shetty saw young children in the streets, many of them covered in scars and bruises. Anooshkha observed how these children were forced to sell toys to people passing by on the streets. While waiting for a red light to turn, she saw children weaving through the traffic, some missing limbs or otherwise handicapped. After researching, Anooshkha found out that these kids were likely held captive by child traffickers who used them to earn money.
Anooshkha was hit with culture shock and the way that trafficking was clearly visible, as opposed to the Bay Area. By simply walking down the street and driving around the city, Anooshkha saw young children begging on the streets, cleaning tables or working on farms instead of doing what children should be at that age: going to school. Through researching more, Anooshkha discovered child trafficking is not only a prevalent issue in third world countries like India, but is becoming an issue in places like the Bay Area.
"The funny thing is that when I go to India, the kids there, say, 'oh, it only happens in the United States,'" Anooshkha said. "But when you come here, the kids here say, 'oh, it happens in India, China, Vietnam and Africa.' It's knowing it does happen [in all communities] that creates awareness."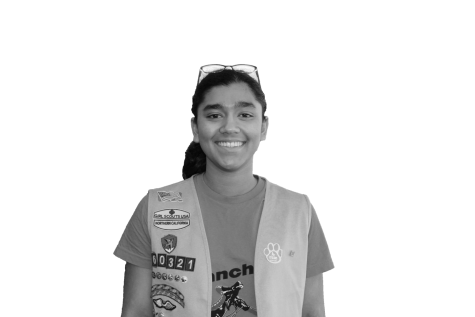 It was difficult for Anooshkha to imagine that such a reality could exist—one where kids are severely malnourished, physically abused regularly and are forced to spend their childhoods in fear of their traffickers. Shocked by this truth, Anooshkha decided to raise awareness for child trafficking for her Girl Scouts Gold Award Project.
The Gold Award Project, which challenges high school girls to create a lasting impact in the world, is the highest award a Girl Scout can earn. Anooshkha, who has been a Girl Scout for 11 years, chose the topic of child trafficking because, after her experiences in India, she wanted to educate people on a prevalent humanitarian crisis. She defines child trafficking as the buying and selling of children for the purpose of labor or sexual exploitation.
She presented her research to students at Blach Intermediate School, Los Altos and three schools in Indian cities Bangalore and Mysore. She finds students in both countries are often unaware child trafficking happens in their community too.
In her presentation, students learned about how to identify children or peers who are being trafficked and what they can do to help them. An example of this is identifying the Fair Trade Certified symbol on various products. The Fair Trade is a certification that companies earn if they ensure a fair wage and don't employ children or use forced labor. Anooshka believes teaching about identifiers of products that use child trafficking is the best way to help people start change in the world.
To ensure that this problem isn't overlooked, Anooshkha has made many efforts to create a long-term impact. For example, her presentation has become a part of Blach's curriculum and the school has instituted a schoolwide trafficking awareness day. This way, even if Anooshkha is no longer giving presentations at the school, her work will continue to inform and inspire students in the future, too.
"I'm very interested in children's rights," Anooshkha said. "And I know this is a topic that I wanted to focus on—the world—and I felt like going to the schools and [presenting] about what child trafficking is, because a lot of kids don't know what it is, [is] the best way to raise awareness."