Anna Zaeske: Track-ing her way to Johns Hopkins
Senior Anna Zaeske has been running track competitively since middle school, but little did she know the sport would take her from running in relay races in the Junior Olympics to committing to Johns Hopkins for Division 3 track and field.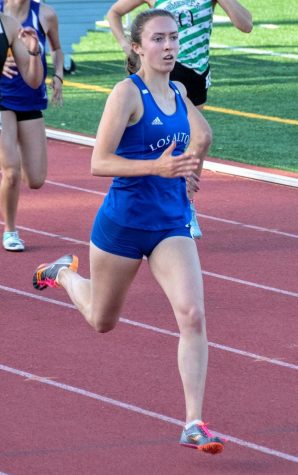 Anna started running varsity track her freshman year, focusing primarily on the 200 and 400-meter events. She admits that the stamina aspect of the sport can be challenging at times, but that's what makes the end result so much more satisfying for her.
"It kind of sucks at first, which is why no one likes running," Anna said. "But it feels really fulfilling when you can push through something hard and end up on the other side with a positive result."
As a sophomore, Anna didn't perform as well as she wanted to.
"My times in the 400 reached a plateau," Anna said. "They were still great times that managed to get me to the state meet, but I couldn't seem to break 58 seconds. I was hoping to get at least one 57 that season and didn't, but I improved a lot in the 100 and 200-meter races."
In the spring of her junior year, Anna decided she was going to strive for college track with the same tenacity she had when she began high school track.
"I was kind of [unsure if] I wanted to keep doing it after high school because I didn't do as well as I'd wanted and I was getting mentally tired of it," Zaeske said. "But after last year's season ended, I realized it's really something that I want to keep doing."
While on the Los Altos track team, Anna set a school record for the 200-meter and the 400-meter with a time of 25.51 seconds and 57.51 seconds, respectively. She also placed first in SCVAL for the 400-meter race in 2018 and 2019, and has qualified for CCS every year since 2017.
Anna's past achievements not only left a mark on the school track team, but also attracted the attention of colleges. Her top two universities were Johns Hopkins, a Division 3 school, and Brown, a Division 1 school.
She later received a likely letter from Johns Hopkins. The letter is a way for the school to notify the applicant that they plan to accept them. Because D3 coaches play a lesser role in the acceptance of an athlete than in a D1 college, Anna's academic aptitude carried more weight. Anna contacted Johns Hopkins in the spring of her junior year through a series of emails and met with the track coach when she visited the school.
At Johns Hopkins, Anna would be able to pursue both her academic and sports interests with the pressure of prioritizing one over the other.
"I wanted to know that, even if I did a sport in college, I could also do other things like research, volunteering—extracurriculars similar to what I'm doing now" she said. "Johns Hopkins definitely was on the top of my list."