Angelina Lue saves elephants with fashion
Over the last century, the African elephant population has decreased by 97 percent, according to Africa Geographic. At the current rate at which they're being hunted, half of the remaining elephants in Africa will be wiped out in the next ten years. This dramatic decline is due to to the rampant elephant poaching crisis.
When sophomore Angelina Lue watched the Netflix documentary "The Ivory Game" in middle school, she was heartbroken by this reality. Angelina was eager to help these elephants, but she was unsure how she could make a difference—she was thousands of miles away from this disaster. She soon learned how she could help when a friend told her about the David Sheldrick Wildlife Trust, an organization dedicated to protecting and providing shelter to elephants in danger of being poached; through this organization, Angelina could donate money and foster rescued elephants.
Angelina wanted to maximize the amount of money she could donate. She always had an affinity for fashion and wanted to combine this with her mission to protect the elephants. A few months later, Angelina successfully integrated her two interests by creating Ivory Tees, a clothing and jewelry company that donates 20% of its net profits to the David Sheldrick Wildlife Trust.  
By utilizing online ads and developing a social media presence on Instagram, Ivory Tees was able to sell over 100 shirts in the past two years. With the revenues, Angelina funded the care of two injured elephants. The first, Luggard, was shot twice in both of his legs and the second, Enkesha, was found in a poacher's trap with her trunk nearly severed. Now, both Luggard and Enkesha are recovering from their injuries and are no longer in danger.
Fostering Luggard and Enkesha has inspired Angelina to expand her business so she can help save even more elephants.
"I [hope] that Ivory Tees becomes a national brand that people can wear and people would recognize on the street…[and I want] the community [to be] in touch with our mission and make them feel like it is worth their time," she said.
While her brand is gaining more popularity, accumulating thousands of followers on Instagram, her road to success has been filled with challenges. The company's first manufacturer produced clothes with inconsistent quality. Ivory Tees also faced some problems with gaining exposure and growing its demographic.
"I spent a lot of money on marketing and then I realized that all the marketing I was doing kind of went to waste because I wasn't investing enough money to actually test [the impact of ads on potential customers] properly," Angelina said.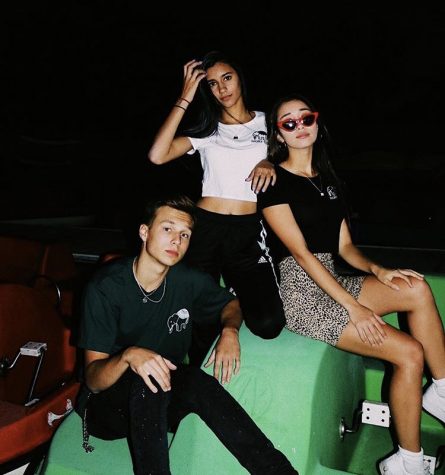 Since that time, Angelina has found a better manufacturer and learned more about marketing, steadily becoming more savvy in the way she promotes Ivory Tees. She has found success in growing Ivory Tees by cultivating an Instagram following and incorporates the school in this initiative by enlisting peers, who have volunteered, to participate in modeling campaigns.
"I got the idea of having models from our school last school year when a couple of my friends started asking me if they could model," Angelina said. "And ever since, we've had people at our school from all ages model for Ivory Tees. The brand has received positive feedback from this [and] it's helped spread awareness about the brand and our mission."
Junior Aisha Rashid, one of these models, believes modeling for Ivory Tees allows her to promote a company and classmate that share similar ideals as her.
"I wanted to participate to help support a fellow peer and saw her enthusiasm for her company so I wanted to be a part of it to help spread the word," Aisha said. "Ivory Tee's clothing is very comfortable and designed very well. The clothing style is something you could see at stores a teenager would shop at."
As Ivory Tees grows, Angelina is optimistic about upcoming projects. After hearing a TedX talk about how drones and thermographic cameras can help conserve the wildlife by sensing if poachers or elephants are in a certain area, she is interested in funding this technology with the money generated from apparel sales.  
Reflecting on the goal of Ivory Tees, Angelina believes that her company allows its customers to feel as though they are making a difference. She also takes pride in how the company has spread awareness about the elephant poaching crisis and has enacted change.
"We are a company that empowers people," Angelina said. "I want people to be able to feel good wearing Ivory Tees and knowing that they're supporting a cause."