Angel Sabangan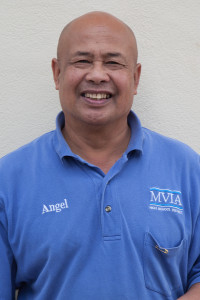 Prior to his job as a custodian, Angel Sabangan was the manager of a Palo Alto data processing company, Varian Associates.
"I did all kinds of stuff [at Varian Associates]…almost every type of job in data processing: I helped with coupons, was a computer operator, started up a distribution clerk, managed the data center and did a little bit of programming," Sabangan said.
Sabangan worked at the data processing company for 35 years before the company split into three smaller companies and laid off most of its employees. He was one of the last ones to get laid off. After his long run in data processing, he decided to retire at the age of 52. But for a hard worker like Sabangan, retiring wasn't easy.
"After two years of doing nothing, I was getting bored so I said 'maybe I'll go back and just do a little work,'" Sabangan said.
So he took on a four-hour-a-day custodian job at the MVLA district office. The following year, Sabangan accepted a full-time position as a custodian at the school, where he's been since.
When Sabangan isn't working, he dedicates a lot of time to his family–his wife, three kids (ages 27, 31 and 36) and four grandkids.
"Family is very important to me," Sabangan said. "I'm a very family-oriented person."
Sabangan's job doesn't start until 2:30 p.m. so he spends every morning looking after his grandkids, allowing his children to focus on their own jobs. Sabangan's wife looks after the kids in the afternoon when he has to leave for work.
"It's how I was raised. When I had three kids of my own, my dad retired after the first one was born," Sabangan said. "It's what my family does, we like to take care of our own."
Between a three-year-old, two twins and a one-month-old baby, there is never a dull moment. Sabangan loves every second of it.
"They're fun…if my grandkids were there when I first retired [from Varian Associates], I honestly probably would not have come back to work at all," Sabangan said.
Sabangan is planning to retire from his work at the school soon—something he has attempted to do twice before.
"I was going to retire last February, and then I was going to retire this coming month again, but then I think, 'ah let me do it one more time, maybe next year,'" Sabangan said.
When he does retire, Sabangan wants to spend most of his time looking after his grandkids. He also hopes he'll find a bit of time to continue his travels around the globe. In the past, Sabangan has traveled to Rome, Siena, Spain, Switzerland, London and the Philippines; after he retires he has his sights set on visiting China or Australia.
For the time being, however, Sabangan plans to simply continue enjoying his job at the school.
"I enjoy being around with everybody here, especially the school kids," Sabangan said. "I notice all these kids go through the things we went through when I was little, and it's beautiful, being around with all the stuff and students at the same time and being able to contribute, to clean the rooms, it's nice…and I love being around kids."
Leave a Comment