Angel Haze: emerging from the underground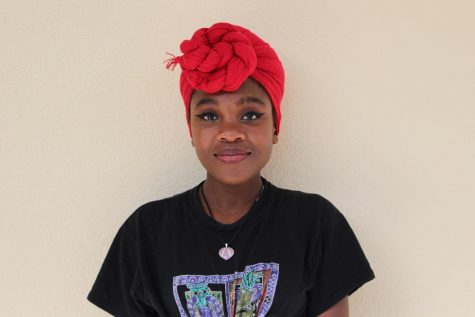 More stories from Tino Tugwete
Angel Haze is a name that evokes admiration, respect and awe from those who have delved into the underground hip-hop scene. Angel Haze is an agender artist who plays in and out the pocket of hard and soft tracks and manages to create a name for theirself in the industry despite growing up through unusual circumstances. Born into the Greater Apostolic Faith, which they refer to as a cult, the artist experienced a much more unique childhood than the average person.
"I wasn't actually allowed to listen to music until about four years ago when I was 16…," Angel Haze said in an interview with BBC Radio. "I grew up in a cult. So there I wasn't allowed to listen to music or have friends that were outside of it or like generally associate with other people and do things, so I like went maybe sixteen years without hearing anything. I don't know anything from back in the day."
Their experience growing up in the Greater Apostolic Faith was the basis that led Angel Haze to create their breakout hit cover of Eminem's "Cleaning Out My Closet." In this cover they are unfiltered and honest about their experiences with abuse and rape in their childhood. With the cover gaining them recognition, they went on to create their mixtape, "Classick," which made waves in music. From there, Angel Haze began working on their first full-length album.
With the December 2013 release of their first full-length album, "Dirty Gold," the 23-year-old rapper set the world of hip-hop on fire. "Dirty Gold" introduces Angel Haze and their journey to this stage of their life. It has a rebel vibe with fire cracker rhymes  and palpable energy that shows the drive, ambition, and determination of Angel Haze as an artist. The album truly illustrates Angel Haze's thoughts on life, religion, mental struggles and their battle with darkness.
"Dirty Gold" was critically praised and produced many hits including "Dirty Gold," the title track, "Echelon" (It's My Way), "Crown," and "New York."  "Battle Cry," a single featuring songwriter Sia, earned Angel Haze a personal record of over five million views on Youtube and touched  many with its uplifting and hard-hitting lyrics combined with a vulnerable music video. In the song, Angel Haze hints at the struggles they faced and how they handle the realities of their life.
"Sometimes you have to hurt for the cause to be reached," Angel Haze said. "But one day you'll be stronger than all that you beat."
Their new project, "Back to the Woods,"  includes thirteen songs, all written and performed by Angel Haze theirself with one producer throughout, Tk Kayembe. "Back to the Woods" comes after Angel Haze's personal struggles and highlights their rap, vocal and songwriting abilities. Through it all, Angel Haze has been able to produce a strong, heavily layered album that deals with the realities of loss, survival and finding one's way through life.
"When I started to make the record, I was really lost, whether that was emotionally, mentally, spiritually — everything was gone," Angel Haze said. "When Tk and I did it, we would sit down because I'd be crying or I'd just done a million drugs and was going crazy and saying, 'I need to express myself, I need to say this.'"
Angel Haze goes on to say that while creating "Back to the Woods," they discovered the woods are the only place they feel at peace and call home. They even visited the woods they talk about throughout the album with their producer and drew the needed inspiration for this project through the reconnection with their home.
"For the first time in my life, I realize that I do have a connection here on earth, I'm always looking for an anchor, something that made me feel real." Angel Haze said to Billboard.com. "But the only thing I've ever connected with is nature, being in the woods and being so unafraid of anything. I feel artistic expression, it's a medium for everything and I considered this record to be one of my best projects to date, because it's just me talking and I feel like it's natural, almost. And that's where I completely got lost in the whole title and the meaning."
The project includes very diverse and thought-provoking tracks.The first four songs introduce us to Angel Haze's ability to play with heavy beats and bass, as well as solid rhythms. They ride above the beat and their flow teases the flow of the songs in an interesting way. The tracks each have multiple layers; sound effects such as wolf calls, political speeches, echoes and their own voice in various keys resonate throughout the songs. Carrying more intimidating vocals, the songs express their desperation for life and survival.
As the tracks progress, "Moonrise Kingdom" breaks the hard beats with a softer melody. The song starts with a solo piano and is layered with a drum line before the lyrics wash over the listener's ear, describing a kingdom made for two. "Moonrise Kingdom" describes two lovers struggling to survive with each other in the  paradise they created. Even in the kingdom they are being chased by outside forces. The song ends with the same sense of still being chased by wolves.
The next song on the project is titled "Detox." It can be seen to describe the difficulties of detoxing from a dependent love and the desperation one feels to remain with someone whom may not be the best influence. The track itself swings between hard metallic sounds and softer beats. The song is a battle in itself describing a relationship dangled in sex, drugs and the battle between sin and pleasure.
As the album progress they takes you through their " Dark Places" with softer vocals and tender raps that prickle around topics of love lost and withheld, while still talking about Angel Haze's divergent personality and views on life as a growing and evolving agender person and artist. The next song "The Eulogy" has a very different feel to it with mostly vocals rather than rap, but it still maintains this very "woods" tribal vibe.
"Back to the Woods" is Angel Haze's crowing jewel – each song on the album represents a different facet of Angel Haze's music. Many consider this a sophomore album because of its completeness and because of this "Back to the Woods" would appeal to range of audiences. Because Angel Haze started their career as a blank canvas, they manage to create their own genre and niche in music, but those who like artists like Banks, Mo, Azealia Banks, Elliphant, Kanye West and even Nicki Minaj would appreciate "Back to the Woods".
Through the valleys and mountains, the heavy trap beats, solid rhythms and the gentler teasing tracks, Angel Haze rides above the rhythm. Through the use of various stylistic elements, they manage to create interest and strong contrast between the images in each song. The use of non-musical sounds also creates a contemporary audial effect that many audiences would appreciate.
"I was so afraid to open up and even scared to sing," Angel Haze said. "I listen to it and I hear how timid I was. I listen to this record and I hear an exponential amount of growth. Not just as a person, but as an artist."
Throughout Angel Haze's career they have proven to be a refreshing character both in their essence as a person and an artist. "Back to the Woods" showcases Angel Haze's ability to engrave lyrics that reveal the realities of life over tracks that beautifully embody the colors of those words. Angel Haze's album takes the listener on a journey of turmoil, survival, strength and redemption while teaching you about life's woods and wolves in a beautiful and completely enrapturing way.
Leave a Comment