All hail the snack-fast-food king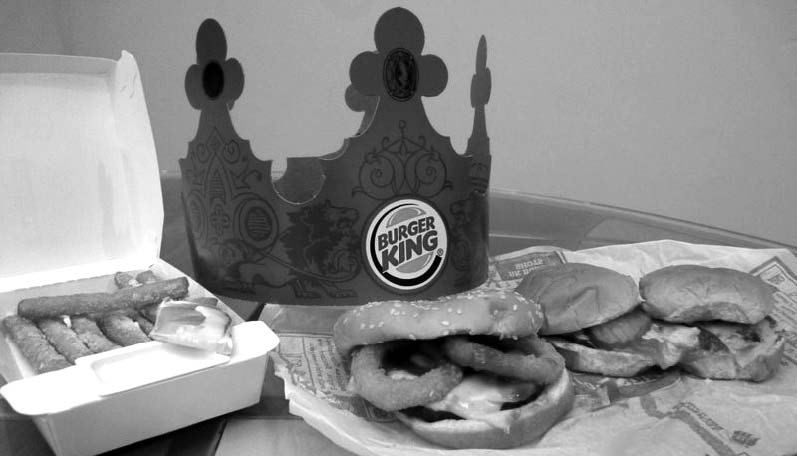 Burger King's funnel cake sticks, rodeo burger and burger shots
are crowned the kings of snack items.
It seems the battle by fast food chains to achieve the biggest burger is over. Fast food giants have moved on to revolutionize a new genre of the fast food menu. It's called the snack menu, but I like to call it "fast food tapas" (much more exotic). These smaller-scale dishes are designed to carry fewer calories in a still delicious bite for an affordable cost. Of course, the advent of these new menus means that a snack food king must be crowned.
McDonald's
McDonald's has been hyping its "snack wraps," which it advertises with beautiful, high-definition close-ups and the "2 for $3" slogan. But when I visited I found the wraps individually cost $1.50, so I was upset to realize that I wasn't actually getting a deal by buying two. I was still more disturbed when the wraps arrived, because they weren't as beautiful as their high-definition images had promised. Instead, I found a heap of 100 percent pure beef Mac Snack Wrap with too much tortilla and too little lettuce, onion and pickle.
Essentially, the Mac Snack Wrap was a downsized Big Mac with the signature sauce passed down. If this is McDonalds' sick joke about the economy, it isn't funny—the hamburger patty was obviously lonely without the bun.
While the Crispy Chicken Snack Wrap was a little more legitimate as its own entity, the final lesson stung: Don't get all wrapped up in glorious commercial beauty. If you venture into a McDonald's, either go the whole hog or drive on by.
Jack in the Box
Jack in the Box's menu was so varied I couldn't help but think that quality was sacrificed by quantity. I tried the Steak Pita Snack ($1.99) along with the special of two tacos ($0.99). The tacos, while the best deal available, turned out just to be two crispy tortillas with one meager pocket in each for the lettuce, salsa and powdery meat (which I seriously hope was made of soy). They were edible, but wouldn't be enjoyable unless the consumer is famished.
The pita snack was also a disappointment. Instead of hummus, Jack in the Box's pita is served with heaps of stringy steak, cheese and grease. Don't mess with Jack in the Box unless you're starving—but at that point, why would you go for a snack?
Burger King
At Burger King, I tried the two pack Burger Shots ($1.39), the Rodeo Burger ($1.39) and the nine piece Funnel Cake Sticks ($1.79).
The burger shots were simply rather dull. After all, a burger should be more than just a bun and small patty.
I got the punch I was looking for with the Rodeo Burger. The barbeque sauce added a nice kick, even if the onion rings might not be for everybody.
But with the Funnel Cake Sticks, Burger King's snack menu went from average to amazing.
Imagine a donut in French Fry form. It is greasy but beautiful. The Funnel Cake Sticks were baby churros enveloped in that frosting that we never got enough of from Toaster Strudel. Even nine pieces hardly satisfied my desire.
Crowning the King
In the end, if there had been a sword in the stone, Burger King would surely have used a Funnel Cake Stick to lasso it loose. With its outstanding dessert snacks, Burger King has expanded its title as King of Burgers to include snacks as well.
Leave a Comment