Alec Van Kerckhove: Racing against the tide
The 2020 Worlds sailing competition is just around the corner for sophomore Alec Van Kerckhove. In fact, it's one of his top priorities. He spends hours practicing control and teamwork with his partner, but overcoming the natural obstacles that come with sailing is no easy task. Alec is battening down the hatches for the journey to qualify and race for team USA.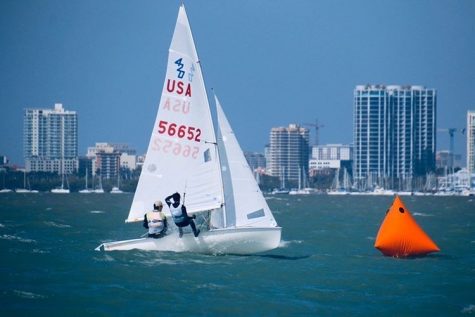 Contrary to popular opinion, sailing isn't just a rich-people pastime that involves sitting around on a boat and enjoying a serene view. It is a physically and mentally demanding sport that requires hours of Alec's time.
"Some people say it's not a sport," Alec said. "When I first tell people I do sailing, they are confused and they don't really know what it is. I don't think people really understand what sailing is about: teamwork. You have to be in sync with your teammate to push the boat as fast as possible and think about strategy and wind shifts."
Developing these skills takes hours of focused practice and physical training. During sailing season, he practices for three hours a day at least twice a week and 10 hours on the weekend before a regatta, a sailing race.
The countless hours he put in paid off last December, when Alec attended his biggest race to date: the Orange Bowl Regatta. He is proud to have placed 28th out of 45 teams, most of whom were several years older and more experienced in competitive sailing.
But Alec's first sailing experience took place many years before, on a family vacation to France. It was purely recreational, and his seventh grade self was just excited to be on a large catamaran boat. Then in his freshman year, Alec's dad convinced him to give sailing a more serious shot. Soon, he discovered a true passion for the sport and joined a club team called the Peninsula Youth Sailing Foundation (PYSF), starting out in a C420, a two-person, 4.2 meter dinghy boat.
"At first it was my dad pushing me to sailing, but then it became my thing because I liked it so much," Alec said. "[What keeps me coming back is] the drive to do better. My coach has been a really big inspiration to keep pushing the limits and having me practice the best way: to be efficient and become better as quick as possible."
As Alec spent more time on the water, he tested out a more advanced boat, the two-person I420 dinghy. It is lighter and more agile compared to the basic C420 and is used in competitive international races.
This next step introduced him to another mental hurdle because it requires stronger teamwork to keep the boat in control on the water. He added additional hours to his weekly schedule on the water to accommodate and get more comfortable on the new boat.
Although his coach, teammate and parents support him in many ways, Alec is a self-motivated individual. He emphasizes that the coach's effort matches his own, so it really comes down to the time and work that he is willing to put in. Spending extra time experimenting in the boat with his crewmate is crucial.
Alec also talks about the physical aspect of sailing, which tends to be overlooked by people watching from an outside perspective.
"On windy days, it's five hours of constantly pulling heavy lines and ropes with my arms," Alec said. "I am basically doing a plank and a leg workout for 45 minutes without a break. With light wind, it isn't as physical, but more mentally challenging because technique is much more in effect."
To add yet another mental challenge, sailing practices and races, unlike most other athletics, are completely different waves to tackle each time.
"In other sports you have the same court or field [every time]. While sailing you go through oceans, bays, lakes, rivers, currents, wind shifts, storms and flat water," Alec said. "The only thing that's the same is the boat, which also changes if the regatta is on the East Coast."
If his goal to qualify for Worlds comes true, Alec will return to the origin of his sailing journey: France. But this time, he hopes to be competing in his I420 instead of sailing in the catamaran with his family.