AI is generating innovation and resistance among artists
The line between art and technology is blending, and the impact is irreversible. With TikTok filters that turn users into anime characters, websites that can write scripts at the press of a button and animations that are "smoothed-out" to show 60-frames on a 24-frame animation, it's easy to see why social media is hooked on artificial intelligence.
One of the most controversial programs is AI-generated art, where an online robot can create a full-fledged image, with as little as a single-worded prompt. As AI generators open testing phases to the public, the idea that anyone can create an art piece is enticing, but its instantaneous rewards may come with a greater cost: competition.
"
I think the challenge with AI is that we've always thought that art and creativity were what made us special in some way, that the robotic apocalypse couldn't come for what made us human
— junior Blaise Wang
"I think the challenge with AI is that we've always thought that art and creativity were what made us special in some way, that the robotic apocalypse couldn't come for what made us human," Advanced Placement Studio Art student and junior Blaise Wang said. "And, I think a lot of people are struggling with the idea that creativity isn't special inherently — it isn't a special part of human intelligence."
AI generator companies like Midjourney, Dall-E, Novel AI and Stable Diffusion, have code to synthesize pieces of artwork based on parameters — keywords inputted by the user — that determine the style, size, quality and other important components to finetune the final product. While this method seems innocuous, the outrage is over the content used to train the AI: artwork done by artists all across the internet. 
Not only are AI generators using art from artists without their permission, but there is evidence that they are using copyrighted images in their datasets. Getty Images, a company well known for its millions of stock images, has sued Stability AI, the developer of Stable Diffusion, for copyright infringement. Images produced by Stable Diffusion sometimes contain a warped version of the Getty Images watermark, a telltale sign that Stable Diffusion has been illegally using the copyrighted images. As of the lawsuit filed on day February 3, 2023, Getty Images estimates that Stable Diffusion has stolen up to 12 million images and seeks up to $150,000 per infringement, which is around 1.8 trillion dollars. 
The non-consensual use of artists' non-copyrighted works has also not gone unnoticed, with both outrage and cynicism rising about the future of the art industry and how freelance workers will make commissions. How can an artist beat a machine? There is a sense of resentment and resignation that weighs heavy on the community, but not everyone feels hopeless. 
"I don't think people will stop producing art organically, and I don't think people will stop buying art that's produced organically, but the demand for art to be created at a faster pace is probably going to be the biggest thing," Blaise said.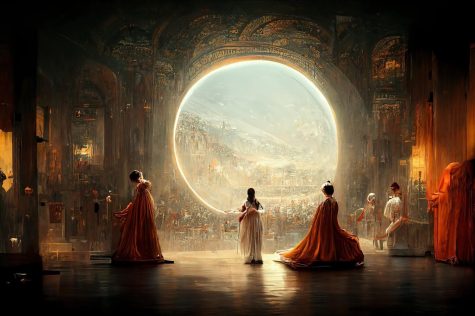 With this wave of anti-AI pushback and AI-resistant artists, social media has become flooded with artists talking about how to make their art more noticeable and unique to create stronger portfolios. Many are professionals in the industry, who discuss in-depth the need to compete with mass-produced concepts generated with AI. The sudden and widespread reflection on artistic integrity has allowed artists to find resolve and confidence in their work. They've encouraged fellow artists to stay resilient and to be vocal about their work being used without compensation.
Though AI faces staunch opposition, there's been growing innovation as well, with some artists using AI to inspire new styles and techniques, rather than discourage people from entering the industry. Some have adapted entirely, even using AI as groundwork for their own projects. 
"I was even thinking what if instead of doing thumbnail sketches, we try using AI?'" LAHS art teacher Yoosun Chai said. "What's your idea and what words did you type and what images did you get? And from there, how were you inspired to draw your final project?"
"I think that there isn't anything wrong with using AI to assist your workflow, just because if you're going to draw a boundary on where art is, it's something that's going to keep going forever," Blaise said. "You can't really decide where the line lies with digital tools, because that's something that's constantly changing and evolving."
"
AI art is more of a pretty picture to me. And that's because it doesn't have the soul of the artist. Art is not just a pretty picture; art has the soul of the artist, their whole process and their life experience. Everything is melted in the art.
— LAHS art teacher Yoosun Chai
However, other artists are discouraged, and rightfully so — these generators can produce pieces that would take a person hundreds of hours to make in mere seconds. The ease with which these machines can create extravagant artwork with relatively little effort from the user further infuriates some artists.
"I think that for artists, it will always be an issue." Blaise said. "You need to eat, you need to make money, this is more competition. You can use the tools, you can not use the tools. But, at the end of that day, you have to decide how you go about your creative process."
The ongoing legal battles and internet debates remain the core focus of artists trying to sort out their own feelings about AI and their future in the industry. Fortunately, there are still many in the community that are taking steps to overcome these struggles, and want to inform people about the true value art has to offer.
"AI art is more of a pretty picture to me. And that's because it doesn't have the soul of the artist." Chai stated, "Art is not just a pretty picture; art has the soul of the artist, their whole process and their life experience. Everything is melted in the art."
Leave a Comment