Adult Education: LAHS Alumni Benefit From Career Training Close To home
Introduction
On the corner of Moffett Boulevard and Cypress Point, hidden below the shade of a towering tree, lies the quaint, two-story building that is the main campus for the Adult Education program in Mountain View. Most recognized for its General Education Development (GED) completion program available to those looking to receive a High School diploma, Adult Ed is composed of many other resources that reach beyond the completion of curriculum for a certificate.
Among the population of students benefiting from the Adult Education resource is a group of individuals who graduated from Los Altos High School and are looking to further their academic careers through a path less known by former and present Los Altos students.
Two such students are Jessica Luna and Valeria Lopez, who graduated from Los Altos in 2009 and 2010 respectively. They are currently enrolled in the Medical Assistant (MA) course available at the Adult Education campus.
Jessica Luna '09
In her senior year of high school, Luna became pregnant with her first daughter and was determined to fulfill her new responsibilities as a parent, which included finding a job for the first time. Immediately after she graduated, Luna enrolled in a few child development courses at Foothill and then De Anza, however, between raising her daughter and being a working student, she was soon forced to leave the school and focus on her family.
"I wanted to get into the medical field and I tried with Foothill and De Anza but their programs were… for longer terms and I have two daughters so [it was] harder for me," Luna said.
Six years later, and after the birth of her second daughter, Luna decided to enroll in the Medical Assistant course through the Adult Education program in the hopes that she would get one step closer to her dream of becoming a pediatrician.
Since enrolling in the Adult Education program, Luna has had extremely positive experiences. For her, the most encouraging aspect of the program is the respect found among her peers, whom she describes as constantly driving her toward success.
"The students are really nice… and [even though] it takes a little while… I think that's [the best thing about the program], that you get along and that everybody is on the same page and that we're all trying to help each other," Luna said.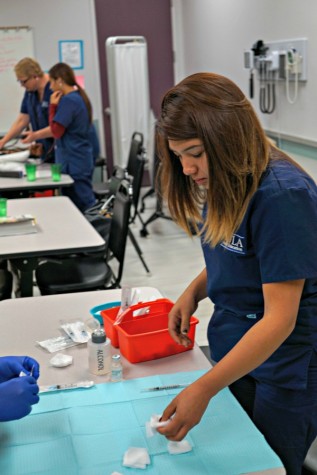 Valeria Lopez '10
After graduating from Los Altos in 2010, Lopez enrolled into the same MA course she is currently taking. However she was soon forced to walk away from the program due family matters and the personal recognition that she was not ready for a medical training course immediately after high school. Her decision to come back five years later was a result of her passion for the medical field.
"I was 17 when I got certified [as a Medical Assistant] and I [did not have a] car… but I liked the medical stuff so I decided to come back and train to become a medical assistant," Lopez said.
For Lopez, the most impressive part of the program has been the unwavering support from the staff, who dedicate so much of their time to ensure the students succeed at the school.
"Last week, we were all having trouble with the math and [our teacher] got someone to come in and help us with the math to make sure we understood it," Lopez said. "It was nice that they went and found a math teacher to come help us because we weren't really expecting that."
Leave a Comment