Admin pulls boys soccer from CCS
For the first time in Los Altos athletics, the administration has pulled a sports team from competing in CCS. Varsity boys soccer ended their season fifth in the league with a record of 4-5-3 (W-L-T). However, due to repeated disagreements with the referees and behavioral misconduct, the administration intervened and pulled the team out of the CCS championship.
The team did worse than in previous years and amassed a total of three red cards for diving, an unsafe tackle and poor conduct and sportsmanship. Most seasons, teams receive one red card at most. However, some members of the team believe certain cards were given unfairly.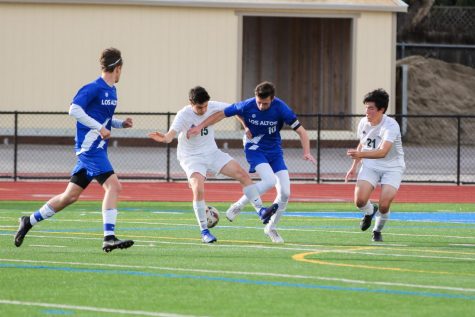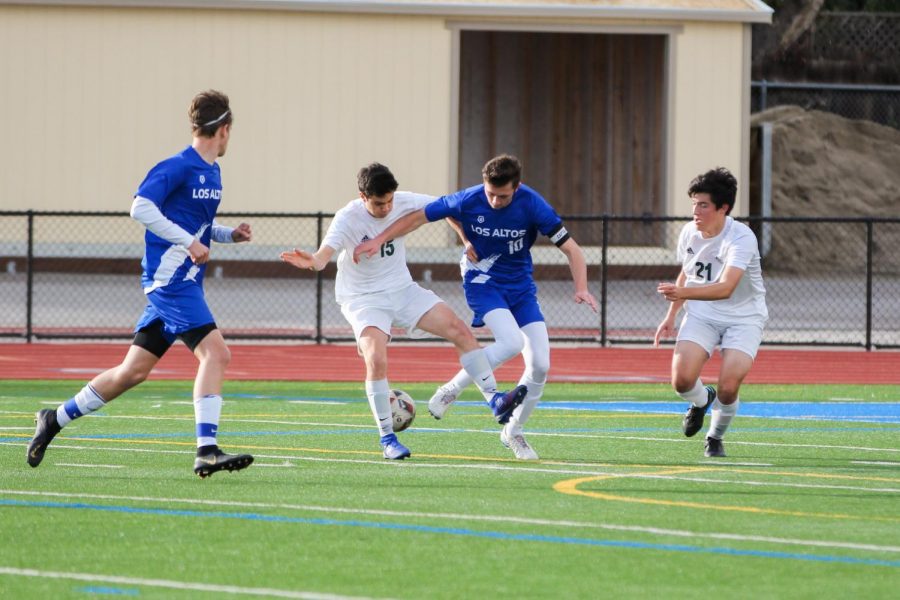 "I think that a lot of it had to do with the referees, and I'm definitely not blaming them all for that," sophomore Gavin Fairey said. "But I think that there should have been more warnings given out instead of just a straight red. There was definitely some misbehavior on the field, but I [don't] think that those those actions deserved to be given a red card."
The team had multiple conversations with the administration regarding their behavior on the field throughout the season. According to sophomore Ethan Apfelberg, a player on the varsity boys soccer team, Principal Wynne Satterwhite and athletic director Michelle Noeth first spoke to the whole team about their behavior and sportsmanship after the second red card. Administration also spoke to individual players about their demeanor on the field. According to Satterwhite, the team continued to play aggressively and argue with the referees during games despite the warnings.
After an incident involving profanities, administration said they felt it was crucial to do something about the behavior on the field. Some players were required to complete a sportsmanship course online and earn a certification while others had one-on-one conversations with Coach Vava Marques, Noeth and Satterwhite
"There had been at least two conversations with the boys soccer team about behavior and red cards, those kinds of things," Satterwhite said. "The behavior that was displayed at that last game was not acceptable. So it's very easy [to make the decision]. They'd been warned. They'd been told there [would] be consequences."
By implementing such measures, Satterwhite and Noeth say they are also trying to send a message to the rest of the school that behavioral misconduct will not be tolerated. Though the decision was disappointing for the team, most players accepted the consequences and are trying to move forward in a positive manner.
"I think that their decision to pull us from CCS is one to set a precedent for future teams, and to show SCVAL and CCS that Los Altos isn't trying to be one of those bad reputation schools," said team captain senior Harry Allen. "Obviously, as a player on the team, I wanted to play CCS, so it's difficult to hear that, but I definitely do understand [Satterwhite's decision]."