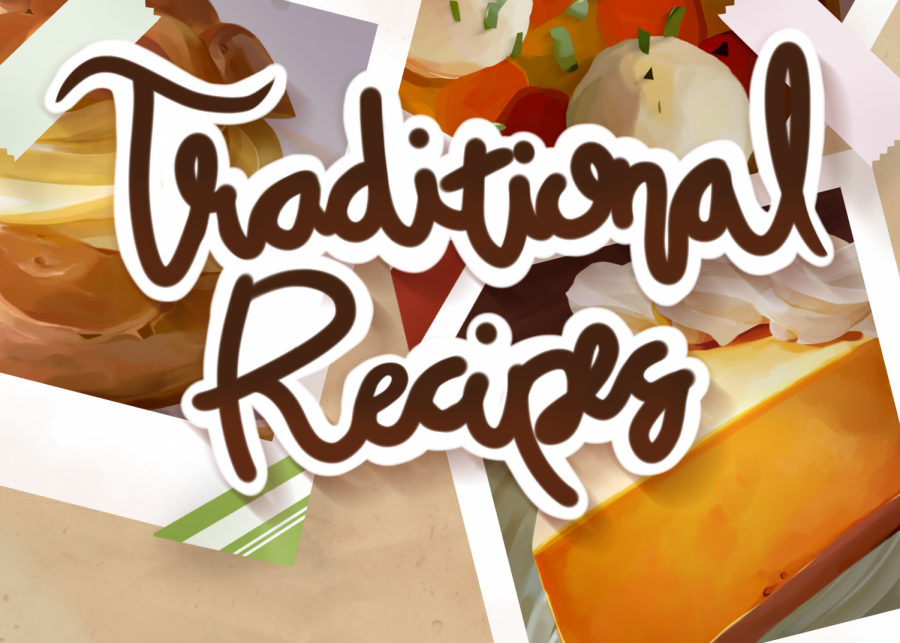 A holiday helping of traditional recipes
December 12, 2021
We asked three LAHS students to share their favorite holiday recipes and traditions, ranging from caroling with family to mailing tea bags to their friends. Feel free to give these time-honored recipes a try over holiday break!
Pumpkin Chiffon Pie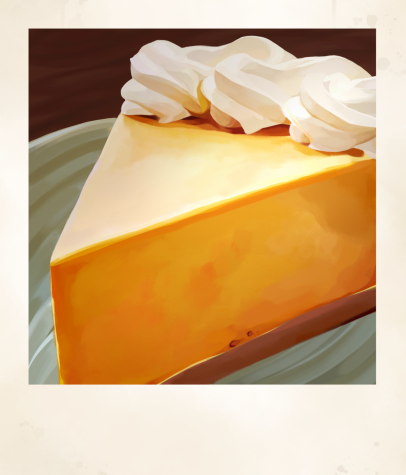 Unlike traditional oven-baked pumpkin pie, senior Carly Watson takes pride in preparing her unique chiffon pie right on the stove. Her beloved family recipe has been passed down from her great-grandmother, who had figured out how to give the pie an unusually fluffy and airy texture. The pie's unexpected gingersnap crust gives the dessert a punch of spice with every bite. She suggests topping the pie with extra gingerbread crumbs and generous servings of whipped cream for maximum enjoyment.
For her family, the recipe not only represents a special once-a-year dessert, but also the very essence of the holiday season: heart-warming memories of enjoying the Christmas spirit among family members.
"I love caroling to our neighbors with my family," Carly said. "I love the lights and music. I love the anticipation and the wonderful smells. I love cooking, baking and hanging out with my family."
Gingersnap Crust
Ingredients:
1 cup sugar
¾ cup butter or vegetable shortening
¼ cup molasses
1 egg
2 cups flour
¼ tsp. salt
2 tsps. baking soda
1 tsp. cinnamon
½ tsp. cloves
1 tsp. ginger
6 tbsps. melted butter
Instructions:
Preheat the oven to 375 degrees.
Cream the unmelted butter and sugar together, then add the egg and molasses. Mix well.
Sift together the dry ingredients and add the mixture to the wet ingredients. Combine until smooth.
Roll the dough into approximately 2-tbsp. balls.
Flatten the balls, then bake on an un-greased sheet for 15 minutes. Wait for the cookies to cool.
Crush the cookies, then mix them with the melted butter in a bowl until well-combined. Press the mixture evenly into a springform pan.
Bake the crust for 5–8 minutes at 375 degrees, then remove the pan and let it cool.
Pumpkin Filling
Ingredients:
1 ¼ cup pumpkin puree
½ cup milk
1/16 tsp. ginger
½ tsp. nutmeg
1 tsp. cinnamon
¾ cup sugar
¼ tsp. orange zest
3 eggs, yolks and whites separated
1 envelope of unflavored gelatin
¼ cup hot water
Instructions:
Mix together the pumpkin puree, milk, spices, ½ cup sugar and egg yolks.
Pour the mixture into a heavy pan or a double broiler on the stove top. Heat on medium heat until thickened for about five minutes.
Add the gelatin to water in a separate bowl and let stand for 3–5 minutes to absorb. Add the gelatin to the pumpkin mixture once the gelatin has bloomed (absorbed water).
Stir the mixture and cool it in the refrigerator until the batter forms peaks.
Whip the egg whites and remaining sugar with orange zest, then fold into the pumpkin mixture.
Pour mixture in a gingersnap crust and chill until set.
Matzah Ball Soup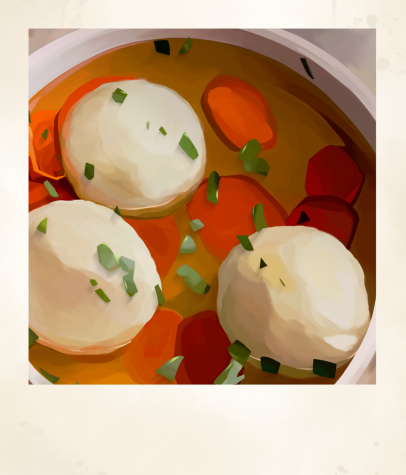 Matzah ball soup is a familiar staple among Jewish families during Passover in the springtime, but the dish also delights junior Mallory Weisfeld and her family around Hanukkah as they kick off their holiday season.
Traditionally composed of chicken broth, matzah balls, root vegetables and a variety of herbs, matzah ball soup is not only time-honored and delicious, but versatile — ingredients such as the broth can be adjusted depending on any dietary restrictions.
"Matzah ball soup symbolizes the coming together of family and joy that happens every holiday season," Mallory said.
Ingredients (Soup):
1 Amish chicken (skin-on), whole or cut up
6–7 medium carrots
2 large onions
1 bunch dill
1 bunch parsley
3–4 parsley roots
1 tbsp. black peppercorns
Kosher salt to taste
Ingredients (Matzah balls):
1 cup matzah meal
4 eggs
1 tsp. baking powder
1/4 tsp. salt
1/3 tsp. pepper
3 tbsps. melted shmaltz (chicken fat) or vegetable oil
1 tsp. minced fresh dill
Instructions:
Wash out the chicken, place it in the stockpot and cover completely with cold water. Let it simmer until fat starts to rise, then continue to simmer for another 25 minutes.
Peel and cut the carrots, onions and parsley roots in half. Wash dill and parsley.
Dump the broth out into a large colander. Rinse the fat off the chicken and pot.
Place all the veggies, parsley, dill, chicken, salt and pepper into the pot. Cover the soup ingredients again with cold water and let the soup simmer on medium-low for about two hours.
Combine all the ingredients for matzah balls in a large bowl. Add minced dill for enhanced flavor and color.
Mix the matzah ball mixture with a spoon until smooth. Place the mixture into the fridge for 20 minutes.
Fill a pot of water with salt and bring it up to a boil on the stove.
Use a little ice cream scooper (or spoon) to scoop the mixture into your hand and then roll the balls out, placing them on a plate
Drop them into the simmering pot carefully, one by one. If you want dense and heavy matzah balls, boil them for 25 minutes. If you prefer airy and light matzah balls, boil them for 35–40 minutes.
Turn the stove down to a simmer. Cover the pot and let them cook for the time set. Once they are finished, the matzah balls can be served immediately with the soup or cooled completely and stored in the refrigerator.
Add salt to the soup if needed and serve the dish with matzah balls, the cooked vegetables and pieces of chicken with another sprinkling of dill on top.
Cream Puffs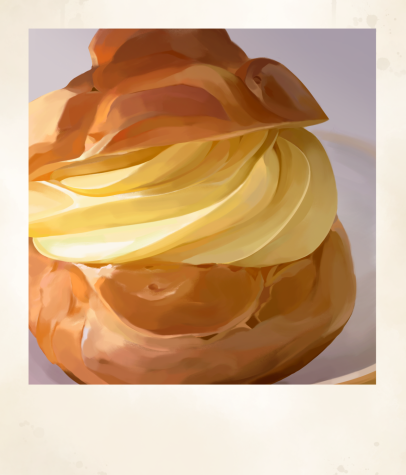 Junior Alice Gerchanovksy's favorite part of the holidays is not only the gray and cloudy weather — a respite from near-constant sunshine — but the opportunities to send custom, heartfelt gifts to her friends. Her untraditional take on presents includes mailing packages of handwritten notes, recipes, sketches, teabags and printed playlists in the post.
Alice recommends the cream puff recipe for its simplicity. Although the puffs only require a few steps and ingredients, they still yield a sophisticated, aesthetic and delicious result, she explained.
"[The recipe] is the best thing to bake," Alice said. "It's easy, but people are still impressed by it. I guess that's the thing with pastries."
Her family immigrated from the Soviet Union, where celebrating Christmas is discouraged. Instead, they celebrate New Year's among a tightly knit community of other Slavic immigrants. For Alice, New Year's Eve is more than just a celebration: it marks her favorite night of the year and a treasured holiday tradition spent alongside lifelong friends.
Ingredients:
1 cup water
6 tbsps. butter
½ cup milk
½ tsp. salt
1 cup flour
4 eggs
Instructions:
Preheat the oven to 400 degrees.
Mix the water, butter, milk and salt in a saucepan over medium-high heat until the butter melts.
When the mixture starts boiling, mix in one cup of flour, then let cool.
Add 4 eggs to the mixture one at a time, making sure to mix well after each egg is added.
Pipe the batter onto a sheet into one-inch circles and bake for 20–25 minutes. Make sure the batter is fully cooked through so the puffs don't collapse after cooling.
Pipe puffs with whipped cream, pastry cream or frosting.