A Deliciously 'Fraiche' Take On Frozen Yogurt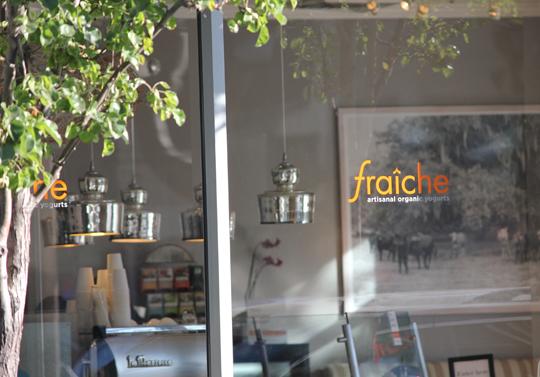 One street off of University Avenue, away from the metropolitan buzz in downtown Palo Alto, is Fraiche Yogurt. The small eatery is nestled on the corner of Emerson and Ramona, and attracts customers in exponentially-greater numbers than its small size and relatively newcomer status would ordain. This is because frozen yogurt enthusiasts come time and time again to enjoy the sweet, healthy, organic and most importantly, fresh yogurt that Fraiche has to offer.
Fraiche was started by Patama Gur, who after frequent visits to Europe, was inspired to use simple, local and natural ingredients to make delicious, artisan food, rather than the mass market conventional for Americans. According to her online mini-biography, she was especially struck by the thick creamy yogurts that she found abroad, which were satisfying and indulgent even in plain form.
Today, Fraiche has three Bay Area locations: one in San Francisco and two in Palo Alto. The menu consists of six types of tasty items offered: organic fresh yogurt, organic frozen yogurt, steel cut oatmeal, handmade baked goods and blue bottle organic coffee.
The atmosphere is cool and simple, with reconstructed hardwood chairs and tables, and glass and stone counters. There are couches and sofas scattered around the room. Bright lights with warm hues keep the room lively and intimate. On the gray walls are pictures of the dairy farm cows that supply the milk for the yogurt. To order, a customer picks a yogurt—an original tart, a sweet soy, chocolate, pomegranate or homemade oreo—and then adds one or two fresh toppings that range from fresh fruit to organic granola.
Fraiche does not attract only the typical teenage female consumer that most frozen yogurt establishments cater to. The patrons of Fraiche range from sophisticated businessmen who come during the day armed with laptops, to college students on breaks to high school students in for a late night snack. The cool pop buzz, which bounces in the background quietly, instills a very sleek vibe.
Fraiche is not a cheap purchase—the smallest size, a nano, comes with only three ounces of yogurt and costs $2.95. Add two toppings and it becomes $3.95. The other sizes, small, regular and large follow a similar price scale. However, it is definitely worth the pretty penny. Fraiche yogurt is delicious, healthy and leaves one feeling genuinely good after eating it, a world away from the sickness sweet treats usually induce. Make the trip to Palo Alto, eat the artisan yogurt and enjoy the taste and health benefits. It's worth it.
Leave a Comment