Soaring Eagles
Senior Martin Aycott
Quarterback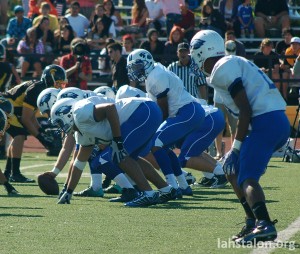 2 games: 8/17 127 yards
27 carries 112 yards 3 TD
The Talon: What was it like going in for Steven McClain in the Santa Cruz game when he broke his wrist?
Martin: I was pretty nervous. At first I had a lot of pressure on me, [but] the line takes a lot of pressure off of me. I can depend on my line if I need to pass. In the end it worked out pretty well.
T: How do you think your team reacted to the injury?
M: We have a lot of injuries, but the second-string players have really stepped it up. The secondary players really know their positions. They come in with intensity, so yeah. We're doing pretty well.
T: What do you want to see happen the rest of the year?
M: Well, obviously I'd like us to go to CCS. I want to play QB a little bit more. Being introduced to it really turned me on to the position. [When Steven's back] we'll probably pick up where we left off.
Junior Nicole Larsen
Goalie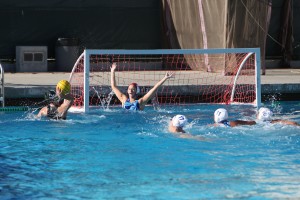 4 goals allowed per game
11.4 saves a game
The Talon: As goalie you do a lot of waiting, right up until the moment you're being attacked. What's it like?
Nicole: It's making sure I have a really intense focus. I try to help the rest of my team.
You don't really notice until after, like, 'woah I've been yelling for 20 minutes.' But just concise short orders … I used to be a field player, so that really helps me decide what they need.
T: Goalies tread water the entire game. How do you get in shape for that?
N: At practice I have a weight belt that's about 20 pounds I use. I have thighs the size of most people's torso.
T: How long ago did you switch to goalie? Was it hard?
N: I've played for five years and I've played goalie for three. It's a lot of work but it's worth it. [It's] definitely hard to get used to it. I know people who have tried but couldn't do it. The position has to pick you.
Leave a Comment