Math teacher Jillian Bellamy: cheerleader in and out of the classroom
Think back to your favorite elementary school classroom: vivid decorations, graphics, and pictures fill the room. Well, Room 717 looks no different. Large, hand-drawn posters explaining mathematical concepts cover the walls, brightly colored paper squares arranged in rainbow order on the back wall introduce each student in the class and behind the teacher's desk, plastered on a large pencil picture, "Ms. Bellamy" is displayed in massive black letters.
This classroom belongs to none other than math teacher and assistant cheerleading coach Jillian Bellamy.
"Ms. Bellamy's like a cheerleader for our class," freshman Ana Halimah said. "She's so enthusiastic and passionate about everything she does."
This is on brand for Bellamy — an avid cheerleader throughout high school and college, she performed at dozens of football games and competitions nationally and internationally.
However, cheerleading wasn't her original plan. When she entered her freshman year at Saratoga High School, she saw four years filled with performing arts ahead of her.
A dancer her whole life, Bellamy originally planned to try out for color guard, but was encouraged by the widespread interest amongst her friends to try out for cheerleading. 
That first season, she was chosen to perform on the junior varsity sideline and competition team. From there, she became JV captain her sophomore year and moved on to varsity in her upperclassman years, taking the position of team captain once again during her senior year.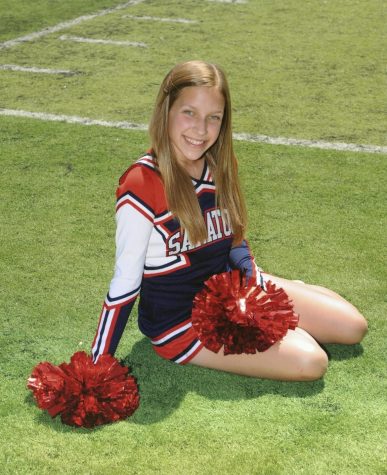 During her freshman and sophomore years, Bellamy participated in her high school's competitive cheer team. Both years, they were successful enough to earn a chance at competing at Universal Cheerleaders Association (UCA) Nationals, an annual competition held in Orlando, Florida, consisting of two days of performances in an elimination-style competition.
Unfortunately, following their success, the cheer team lost their coach and disbanded after Bellamy's sophomore season and became mainly student-run the following year.
"It was like, 'okay, now you're on your own, you're just gonna have to just figure it out'," Bellamy said.
This began a new era for her cheer career, one that she'd pursue beyond the sport: leadership. During her senior year, Bellamy was chosen as varsity captain and the responsibility of organizing the team landed on her.
Throughout this, the sideline cheer team continued performing at football and basketball games seasonally, learning new stunts and skills and sharpening their routines, impressing audiences game after game. 
The close of the winter sports season of Bellamy's senior year also marked the end of her high school cheer experience — but it was nowhere near the end of her cheerleading career altogether.
While looking at colleges to apply to, Bellamy didn't want to leave cheer behind altogether, but wasn't interested in her entire college experience revolving around cheerleading either. So, she targeted schools with a more low-key cheer team.
And thus, in 2015, Bellamy began studying and cheering at Chapman University in southern California. 
However, this was far different from her experience on the high school cheer team. 
The team was not considered a standard college sports team but was still given official recognition and support from the school administration. And, although the team was not considered a competitive team, they still had demanding daily practices and frequently performed at sporting events. 
College was non-stop for Bellamy: as a double major in mathematics and education, her schedule was packed with classes, activities, and practice from sunrise to sundown. Most days, to comply with all the members' class schedules, the cheerleading team would practice in the late evening, often ending near midnight. 
"I never really took a break," Bellamy said. "I don't know if I could do it now, but back then I had all the energy in the world."
With her consistency and dedication to the team throughout college, Bellamy, once again, was chosen as team captain senior year. 
This time around, however, the role was more like a part-time job: Bellamy was now also in charge of choreographing routines, ensuring members' attendance, and coordinating all their rehearsals, meetings and events. Simply said, it was no easy task.
"We pretty much ran the whole show," Bellamy said.
But the skills she learned in this role would come into use later on.
After graduating with degrees in mathematics and education, Bellamy became a math teacher at LAHS, teaching Geometry, Geometry Honors and Algebra II Honors classes.
On the side, she is an assistant coach for the Los Altos High School cheer team with head coach Alexandra Perez.
Throughout her entire career, Bellamy's positive attitude and cheerful personality stuck by her side, from her own high school team at Saratoga to Chapman University's cheer squad and finally, to our very own school, where she's a fan favorite both in the classroom and on the field.  
"She knows just how to make practice fun," varsity cheerleader and freshman Dana Gowdy said. "She always brings this positive energy to practice even when it's six in the morning."
Even when her life gets busy and waking up for early morning practices gets hard, Bellamy reminds herself that this was the exact life she wanted.
"This was my dream — teaching math and coaching cheer," Bellamy said. "Honestly, I'm glad I ended up doing cheer, or I'd have no idea what else I'd be doing today."
Leave a Comment