Freshmen assist varsity girls volleyball
For the first time in three years, the varsity girls volleyball team has accepted freshmen. Freshmen Kaitlyn Lee and Megan Wong received a warm welcome in August.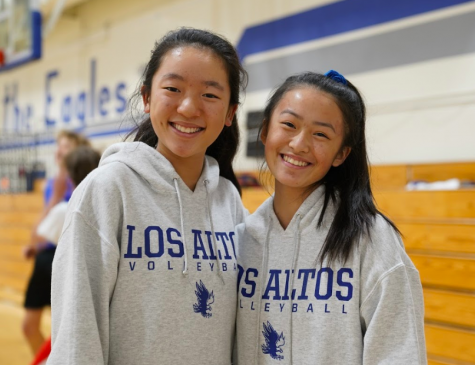 The last time a freshman joined girls varsity volleyball was when current team captain senior Katie Kishton made the team. Coach Peter Kim typically only allows players with at least one year of experience on the JV team onto the varsity team, but he made an exception when he recognized the raw talent Kaitlyn and Megan have.
"These freshmen are very young compared to the rest of the girls who have been playing for a lot longer, but the best part of them is that they are very willing and eager to learn and improve their skills," team captain senior Claire Kwok said.
Kaitlyn started playing over four years ago, right before she moved to the Bay Area from Los Angeles in fifth grade.
"I was tall and one of my teachers from LA suggested that I play volleyball because I played basketball," Kaitlyn said. "So I was just like, I'll try it out and see how it goes. It definitely helped me make a lot of new friends and meet a lot of different people from different schools."
Going into tryouts, Kaitlyn knew there would be many talented players to compete against. Due to the team's second place in states last year, there were high expectations for this year's team. Although starting high school can be very difficult, being among the varsity upperclassmen has made the transition easier for Kaitlyn.
"During school, when I see my upperclass teammates, I don't feel like I am necessarily the youngest or the smallest," Kaitlyn said. "I love how every away game we do a dance called 'The Gigolo,' and it reminds me of my first year playing volleyball because we would always do that. Everybody does something silly and it just brings the whole group together and forms bonds."
One of these bonds was made between Kaitlyn and Megan, who have become friends because of volleyball. Megan discovered her love for volleyball when she was in sixth grade and has stuck with it ever since.
"My sister originally played volleyball and that got me inspired to try it out," Megan said. "Once I tried it out, I realized how much I enjoyed it and how passionate I was for it." Deciding to play on the varsity team has allowed Megan to find a place to fit in and create new friends in her first year of high school.
"When Kaitlyn and I were invited to play on the varsity court, we were so excited to get the opportunity to play with extremely talented and experienced girls," Megan said. "Getting to meet and become closer with all these upperclassmen has already made my freshman experience so much better. Katie always helps me out and coaches me; she's like kind of like my older sister."
Although the team lost six seniors last year, having two new freshman has allowed the team to bring a new generation of talent.
"They bring so much energy and are always so positive," Katie said. "They are both very good for only being freshmen and have had a huge impact on the team."
Now that the official season is over, the team is currently competing in CCS and has already won their first match against Cupertino, moving them onto the quarter-finals. Their next CCS game will be an away match versus Carlmont.
"I want our team to go as far as we can, be happy with the way that we play and to play consistency and work on everything that we've strived for this entire season," Kaitlyn said.