Football opens season with win against Soquel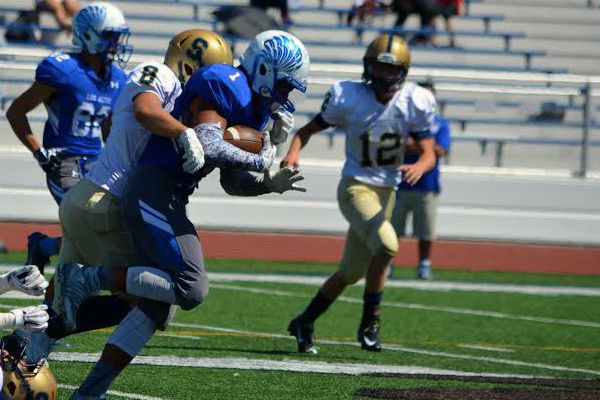 On September 5, the Los Altos High School varsity football team kicked off its season with a 21-14 win over Soquel High School.  The win is a step in the right direction for Los Altos as they hope to build off this performance and have a winning season.
Los Altos showed its blue collar style today as they ran the ball a total of 34 times.  This tactic was working at the end of the first half as Los Altos led Soquel 14-6 off the back of two rushing touchdowns from senior running back Patrick Vargas. Patrick ended the day with 119 yards on 19 carries. Behind Vargas, seniors Ben Roach and Eddie Melchor and junior Max Higareda made  significant contributions to the success on the ground.
"Our offensive line killed it," senior captain and quarterback Kyle Gounod said. "Patrick,  Max, Eddie and [Ben] ran the ball [amazingly] and our defense stepped up when it mattered. [I] couldn't be more proud."
Kyle, who only attempted two passes in the first half, got his chance in the fourth quarter when he took advantage of the team's successful running game and hit senior wide receiver Bailey Thayer for an 80-yard touchdown on a play-action pass.  This touchdown would turn out to be decisive, and Los Altos would go on to claim its first win of the season.
"It was a well fought game," Bailey said. "Our team put it all out on the field every play."
The Eagles' next game is on September 18 at Half Moon Bay.  Their next home game will be on September 25 at 3:30 p.m. against Hayward.
Leave a Comment