24 in 24: The Rosen challenge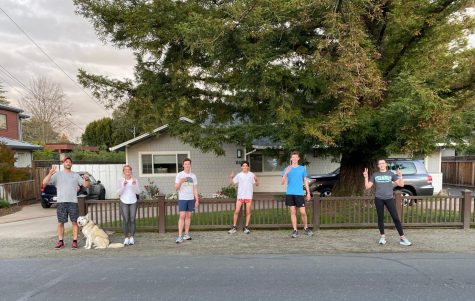 "I'm bored in the house and I'm in the house bored" (TikTok reference). If this is you, then maybe you should try the Rosen Challenge. 
Like many other students, the shelter-in place order left Junior Justin Rosen bored much of the time, until he came up with a creative idea and proposed it to his sister: the Rosen Challenge. The challenge is to run 24 miles in 24 hours: one mile every hour of the day. 
Over 15 people joined the Rosen Challenge, including his dog Alani, friends and family. They started at 9 a.m. on Saturday, April 18 and ended the challenge the next morning at 9 a.m. 
"The hardest part was waking up each hour after 12 a.m. to go outside and run," Justin said. "It [takes] a lot of mental will. You have to persevere through the hardest parts even when you don't want to wake up anymore to go run and just want to sleep for the rest of the night."
As a member of both the Los Altos cross country and track teams, Justin felt this challenge would be a great way to get the Los Altos community active as well. 
"Afterwards I felt very proud of myself and all my friends and family who did it," Justin said. "I have so much respect for all of them for pushing through and joining me on this crazy crusade."
Justin plans to do the challenge again on Saturday, May 2 at 9 a.m. While promoting the ASB food drive for the Second Harvest Food Bank, he and ASB are also publicizing the next opportunity to do the Rosen Challenge. 
"Give it a chance," Justin said. "It is a really fun and unusual experience that you may not have been able to participate in without quarantine because you wouldn't want to stay up all night when you have to go to school the day after. I recommend that everyone tries it even if they don't do the entire thing."
Leave a Comment