School Should Notify Students and Parents Before Changing Grade Availability on SIS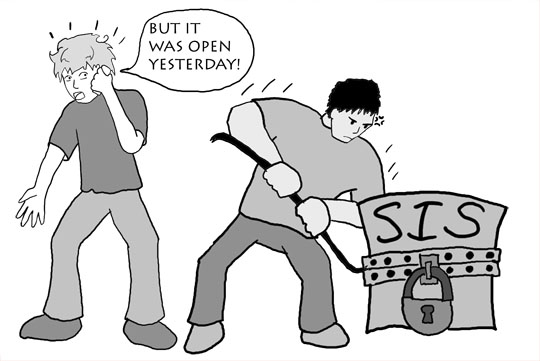 At the end of first semester, access to semester grades via the Student Information System (SIS) was turned off while teachers were entering grades. This led to concern from many students and parents who were not able to view grades right after finals.
In order to reduce stress on the part of both teachers and students, greater clarity between the administration and students should be established in terms of the school's SIS policy.
Assistant Principal Cristy Dawson said, "Turning off the gradebook has always been part of a normal policy." However, last semester, there was some miscommunication in terms of when grades were being inputted and when they could be viewed.
"I do know that this year it came up as an issue … so between final exams, posting and when grades were due, [SIS] was turned off because different teachers post at different times and parents started calling and [asking] 'how come the grades [aren't] posted yet?'" Assistant Superintendent Steve Hope said.
The gradebook is turned off because "parents become very upset to see their child's grade change and drop during the break," Dawson said.
In the case that teachers are in the middle of grading, it makes sense to allow teachers to completely finish before students log on to check their grades. This policy prevents students from contacting teachers regarding assignments that have already been successfully completed and have not been entered yet.
When teachers haven't updated grades in a while, even after finals week, students may appear to have missing assignments in their gradebooks.
With only a few days in the semester left, it would be helpful for students to be able to access their SIS accounts in order to see where they stand in the class.
The school should leave a fixed period of time after teachers finish entering grades and before grades are completed to allow students to make any necessary adjustments to incomplete assignments. Additionally, the school should encourage teachers to update their grades as quickly as possible to allow the greatest amount of time for students to work out any issues.
To make the SIS policy clear and the system accessible, the school should notify students and parents through announcements, emails or automated phone calls.
Miscommunication could also be prevented by standardizing the policy for entering grades. Teachers have the ability to show or hide assignments while they are entering grades by selecting "Grades visible to portal" when they want to make grades available on SIS.
More teachers should take advantage of this function while they are inputting grades to prevent confusion. Instead of shutting down SIS entirely, students would be able to log on and check the assignments that were already entered.
It is important for the school to communicate to all parties what to expect from SIS so as to alleviate stress. The policy should be standardized to prevent confusion from year to year.
By giving prior notice as to the exact dates when teachers are entering grades, what times students should contact teachers about any questions they may have, and in what time frame individuals can log onto SIS to check their finalized grades, the school can prevent miscommunication and make the end of the semester less stressful for everyone.
View Comments (64)