Art Department Collaborates to Finish Mosaic, Fundraise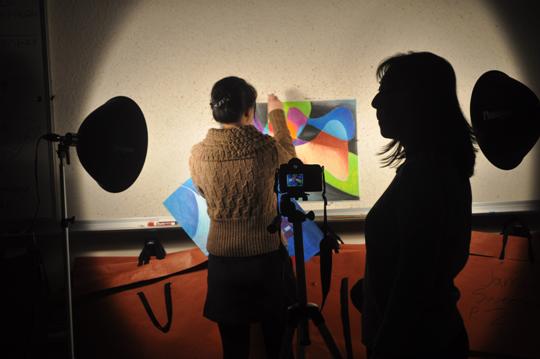 The members of the Art Club and volunteers in the art classes worked in the cafeteria on Monday, January 3 and Tuesday, January 4 to create panels of mosaics to be mounted onto the cafeteria wall during February Break. While there was a specific motif, each artist combined his or her distinct style to complete a mosaic.
Last year, parents of art students met to think of ways to help fund the Art Department. Professional mosaic artist Margarita Soyfertis, senior Eve and sophomore David Survilo's mother, came up with the idea of a school mosaic as a fundraiser. She provided the school and students with the materials necessary to build the mosaic, and students took creative liberties in constructing it. The Art Club members chose Los Altos to be the theme of the mosaic, but while they were making it, each member gave his or her individual flair that can be seen in each panel of the mosaic.
"The overall picture had to look as one," Art Club board member senior Susan Gao said. "It was kind of difficult because everyone has their distinct styles."
Art Club raises money to give scholarships to the art students who want to go on the Art Department's annual Europe trip. The additional money raised will be given to the Art Department to buy materials for the classes. Club meetings are every other Wednesday in Room 713.
The club has done a variety of projects including garage sales and participating in the Holiday Faire. This year, club members sold holiday cards and worked on the Mosaic Project. The Art Club's biggest annual fundraiser is the Art Auction, which will be on Tuesday, March 1, at which the mosaic will be unveiled.
"It's going to span the entire cafeteria wall," Art Club board member senior Arista Jusuf said.
Each of the Art Club's projects is organized and created by club members and volunteers from the other art classes. To create the mosaic, students first sketched out on butcher paper the scenes they wanted to portray, and then pressed in tiny glass tiles to assemble the scenes they had envisioned. They worked for four hours each day for two days to finish the mosaic.
"I am so amazed at the Art Club members, especially the officers, taking initiative to organize the projects," Art teacher Christine An said. "They're so wonderful and each project has been carried out perfectly. I am very thankful to have them."
Leave a Comment