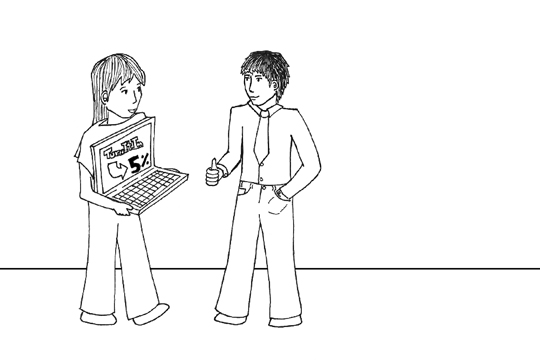 As a result of increasing amounts of plagiarism, the English Department has opted to utilize Turnitin in a test run for the school year. Despite cost and other detriments, this decision brings a number of benefits to improving English education at our school.
The primary benefit of Turnitin is its ability to detect plagiarism by searching through the Internet, as well as previously submitted papers that have already been stored in the online system. While the database may not contain every paper, it presents at least a starting point for detecting plagiarism.
"We were talking about how aligned our curriculum is, that all sophomores are doing a paper, and that next year's sophomores are very likely to be doing the same paper," English teacher Galen Rosenberg said. "While it's not that difficult to catch plagiarism that's taken from the Internet, it's pretty hard to catch plagiarism where students are taking from one another. It's rare, but it happens."
If students know that their work is being matched against countless sources on the Internet, it undoubtedly discourages them from even attempting to plagiarize. With this enforcing mechanism in place, Rosenberg said that plagiarism will ideally not even occur.
Story continues below advertisement
However, Turnitin serves a greater purpose than just detecting incidences of plagiarism. It also offers students the ability to see the percent of plagiarism in their essays immediately after they are uploaded.
"When they submit [their paper], it tells the students what percentage of the document is plagiarized or the same as something else found on the web," English teacher April Oliver said. "It's not necessarily going to be zero, [but] when it gives the percentage of how plagiarized it is, I think it'll increase awareness for students."
This feature benefits students as it can prompt them to reevaluate their writing styles or processes and also encourages them to develop better research practices.
"When we do research, [students] don't necessarily differentiate between their words and what they're quoting," English teacher Michael Kanda said. "Turnitin could be one of those things [that] reinforce that research skill."
Besides raising awareness, Turnitin also offers a comprehensive peer editing feedback system, called PeerMark, that can be helpful for the writing process outside of class. According to the Turnitin website, the Turnitin system is capable of running a grammar, usage and mechanics check. PeerMark also allows for more convenient collaboration and review.
However, in the process of soliciting peer feedback outside of the classroom setting, one primary disadvantage of Turnitin is the fact that Internet access may not be a commodity that all students have at home.
"One of the challenges [is that it's] another step for teachers and students to have to go through to turn in their papers," Kanda said.
"That's probably the biggest thing, especially for students who might not have Internet access at home. It might prove a challenge."
In the long run, utilizing Turnitin represents a step our society takes in transitioning more toward technology.
"If it makes it easier for us to switch to a digital platform for writing papers, I think that'd be a good thing," Rosenberg said. "At some point in the future, whether it be Turnitin or Google Docs, our work will be digital."
Turnitin facilitates this transition to the digital era. As technology becomes increasingly incorporated with modern day jobs, it becomes increasingly important to equip students with technological skills such as using World, Excel and the Internet. Utilizing Turnitin is one step forward in improving student technological competency.
Turnitin may be costly for the school to maintain, but the system offers an abundance of benefits for students and teachers alike. From enforcing proper research skills to a comprehensive grammar feedback system to teaching students to reevaluate their writing, Turnitin represents the face of the new generation of English education.