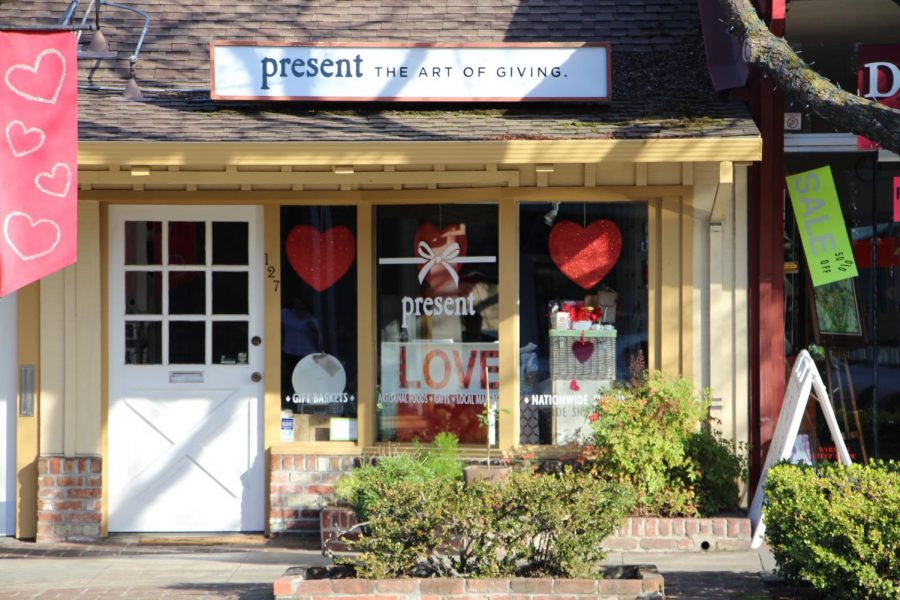 Tucked away in a small wall alcove on Main Street, the gift shop Present has a simple, minimalist exterior. But inside, every nook, cranny and tabletop surface overflows with a wide assortment of unique products. From Napa Valley olive oils and herbal lotions to patterned plates, seasonings and a variety sweet treats, Present presents customers with a multitude of locally-sourced items so that they can find high quality artisanal gifts.
Present co-founders Jim Daley and Jim Reynolds wanted their business to be different from typical corporate stores—the duo purposefully named their shop Present to emphasize their dedication to gift-giving, but also highlight how their items aim to remind people to be "present" and in the moment.
The downtown Los Altos business creates customized, hand-wrapped gift baskets for all occasions including birthdays, corporate thank-you's and seasonal holiday celebrations. Roughly 80 percent of its food items originate from northern California artisans as well as Bay area makers, Daley said.
Daley and Reynolds often received gift baskets for the spa-salon they originally ran in Texas, but were usually disappointed in the poor quality of the items. Inspired to create better care packages and intent on making a meaningful addition to the Los Altos community, the two Jims founded Present in 2012.
"We always used to remark, 'Why doesn't somebody have a gift basket company where all the items taste good?'" Daley said. "It seemed natural for us to open a business that actually makes [gift baskets but] we [also] wanted a business that would connect us to the community. [We both] grew up in a town very much like this, [so] it seemed like a [good] way for us to grow old yet still be a part of a community."
As private business owners, Daley and Reynolds take pride in their ability to offer customers a range of regional products. As described by Daley, Present is different than typical "large, big-box corporate" stores in that its collection of merchandise is a distinctly organic representation of diverse local culture.
"Now we live in a society where you can get the same thing everywhere around the world, but there are certain things that small makers don't put out worldwide [which makes] them a little more special," Daley said.
In particular, Daley believes that Los Altos' "small town atmosphere" has helped their business thrive by allowing them to maintain a quiet, personable environment for their walk-in customers.
"It's a pedestrian town, so it actually helps people like us who introduce ourselves to people that didn't even know we were here," Daley said. "People like to stroll around town, whether it's to walk the dog or walk the kids, or just walking off a meal from a local restaurant. [They] just really enjoy that [because] it connects you to the place you live and it's [also] been helpful to us."