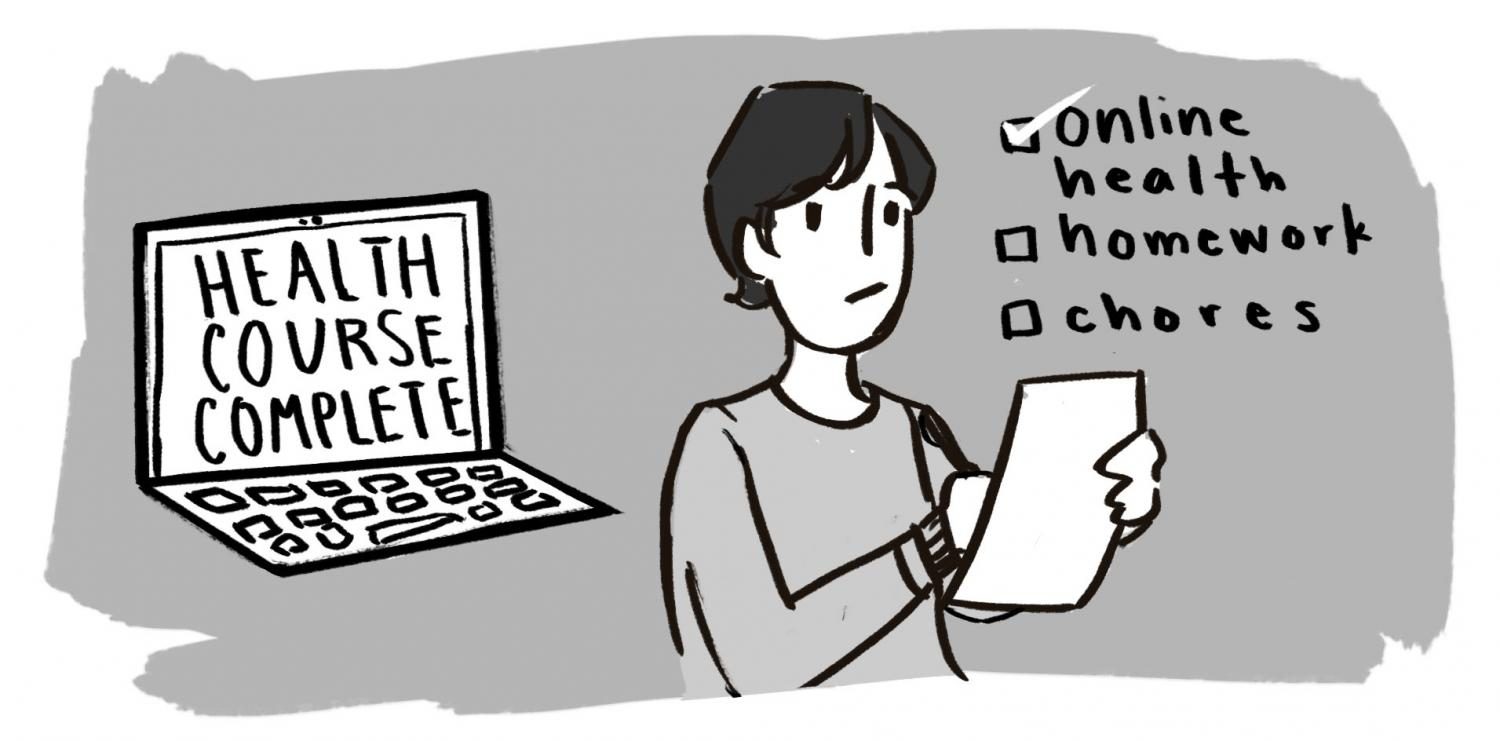 It's unclear whether any student has taken the MVLA School District's online health class with the intention of learning. The web course is a bit like driver's ed — a curriculum that holds no more significance than another checkbox in the high school experience. Yet while it is universally acknowledged that the online offerings have many flaws — pointless, lacking, uneducational — the school district does not wish to require in-seat health for all students, citing logistical issues.
These logistics can and need to be solved, for students' sake. Los Altos already has an engaging, discussion-based in-seat health class that needs to be required for all students. The school should consider mandating in-seat health during its upcoming WASC review.
While the school district currently offers both an online summer and a semester-long in-seat health course, the online option has always been students' favorite choice for scheduling and convenience reasons. Despite this, online course offerings are flimsy at best. The commonly-chosen BYU course will be discontinued by the end of this school year because it fails to meet new California sex education requirements for 2018, leaving the online host Odysseyware as the only summer option. And Odysseyware's curriculum doesn't stand up to scrutiny.
The Odysseyware course minimizes human interaction and maximizes digital eye strain — going to the Adult Education center is only required for registration and test-taking. The two-week long summer course involves daily hours of reading, menial projects and multiple-choice chapter exams. It's not exactly prime for starting conversations on important topics like mental health or consent.
The current in-seat health class places a priority on activities, discussions and health speakers, all of which create an atmosphere for exploration rather than passive reading of social, mental, physical and emotional health topics. These necessary conversations shouldn't be reserved for the few students who decide it is worth their time.
Specifically, online health's consent education is pitiful. The curriculum holds no more than a couple paragraphs of text and multiple-choice test questions on the topic. It's not nearly enough, and state sex education laws — the same ones that ended the BYU program — even mandate that Odysseyware reform this content by next school year.
In stark contrast to online health, in-seat health emphasizes these topics through open-ended discussion and a focus on creating safe environments. The class spends an entire week on consent and sex education, bringing in speakers from organizations like Planned Parenthood to talk about affirmative consent and empowerment. The depth of this education needs to reach all students, even those with the busiest schedules.
With a majority of students receiving subpar online health education, it's not surprising that Los Altos held mandatory consent workshops during Communications Week. The school district has taken the right steps toward remedying the lack of consent education, yet in-seat health class students have reported that their course covered the same material as the workshops but with more depth. The necessity of Communications Week is only indicative of the failure of our school's health offerings.
It's not just Odysseyware's curriculum at fault here. Online classes lack the in-person discussions provided by the classroom setting necessary for any effective health course, and the student referrals for help that health teachers receive after discussions about consent or mental health could never occur without the in-seat aspect. BYU failed, Odysseyware has failed — we cannot keep patching up health with another online course handicapped by the same inherent attributes.
Of course, some students may perceive the in-seat health class as boring and unnecessary — what's to expect but lectures and tacky activities? This prevailing attitude comes as a result of the district lackluster support for their own health offerings. If the school district places an emphasis on health, students will also begin to see it as an important part of education.
Logistical concerns may also seem consequential at first: there's only one health teacher at Los Altos, and credentialed health teachers are near impossible to find. But Los Altos needs only two health teachers to reach every student. With an approximate average class size of 500 students, that's 250 students taught per semester, or about 10 classes of 25 students per semester. If two teachers each taught five classes each per semester, that about solves the problem.
It's not a stretch to imagine that Los Altos could hire at least one more health teacher, and if not, assist a few teachers already at the school with getting the credentials to help out. For the few students whose schedules leave no room at all for the course, a lottery-based in-seat summer school option can be made available.
If the district doesn't take its health offerings seriously, how can they expect students to follow suit? With more emphasis on in-seat health, all students will receive the richer, more engaging health curriculum necessary to prepare students for issues like mental health or sexuality — many of which students are already facing. When school district staff, school administrators, teachers and students have all concurred that in-seat health is a more fulfilling experience than any online course, it becomes clear that the in-seat health course must become mandatory.