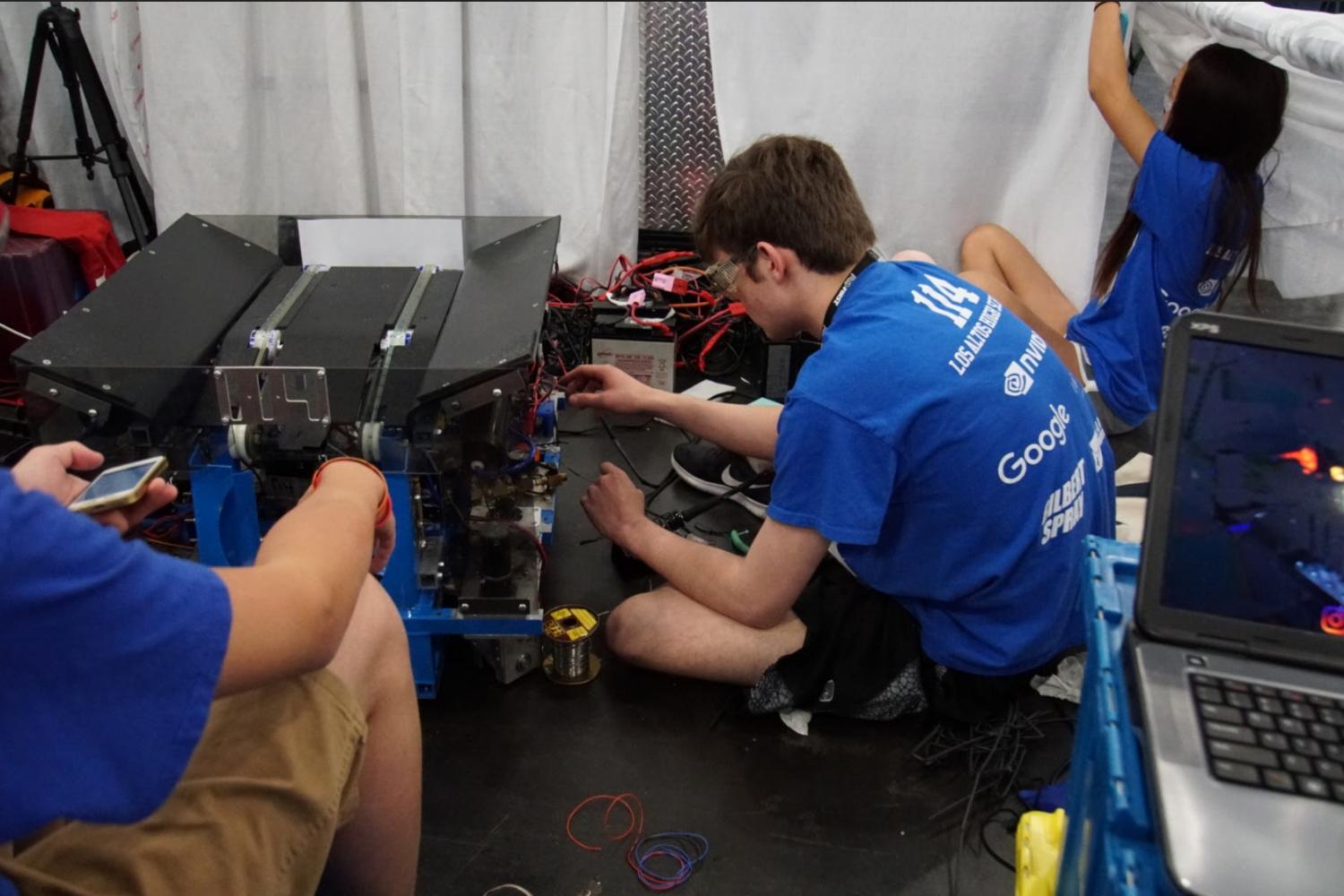 Courtesy David Bozinov
Advancing to the world stage from their first ever win at the Ventura regional, the Los Altos Robotics Team competed in the For Inspiration and Recognition of Science and Technology (FIRST) world championship, which took place Tuesday to Sunday, April 18 to 23.
Los Altos joined more than 400 other teams from around the globe that qualified by either winning their respective regionals or receiving special awards. The Los Altos team ended their qualifying rounds at the world championship as the 37th seed out of the 67 teams in their division with five wins and five losses.
Amidst fierce competition, Los Altos remained hopeful about their chances. At the FIRST Championship, a preliminary set of ten qualifying rounds spanned the first two days of competition. In each qualifying round, two random alliances — each alliance being a team of three robots — faced off on an arena and scored points by placing plastic gears on pegs, shooting balls into goals or hanging on a rope.
For the first five qualification matches, however, the team faced technical challenges with the robot's motors, which inhibited its scoring potential in matches. Members of the drive team, who were most familiar with the intricacies of the robot, redid the wiring on all the speed controllers of the drivetrain. After two hours of repairs, the robot was able to perform as well as it had at the Ventura regional. Even though the robot ended up performing well in later matches, team members still believed that they should have placed higher in qualifiers.
"I feel like [our performance at the end] should have been our average," drive team member freshman Michelle Zhu said. "At the Ventura regional, that was how well we were doing during the finals. It's easy for us to do that when our robot is functioning properly."
After two days of qualifiers, the eight highest seeded teams from each of six divisions chose two other teams from their division to form an alliance. Alliances would compete in division finals against other alliances in their division, and the winners of the division finals would move on to fight for the title of world champion. Based on their performance in the last four qualifying matches, Los Altos hoped that one of the top seeded alliance captains in their division would choose them as an alliance partner.
"We didn't necessarily win all of the qualifying matches [after the fix], but we showed that we could [score gears and] climb," team co-adviser Stephen Hine said. "We had other teams coming in and talking to us saying 'hey, what do you think if we [paired] together', but we ended up not being chosen."
Although the team was not picked to advance to their division's finals, they still received praise from both the championship organizers as well as other teams for their robot's mechanical design. This year, the team accomplished the feat of designing and implementing an omnidirectional swerve drivetrain.
"The announcer would not stop talking about us," Hine said. "He kept saying, 'Look at [Los Altos] and their swerve drive, they're just zipping across the field.' I think there were only six or eight swerve drives in the entire championship."