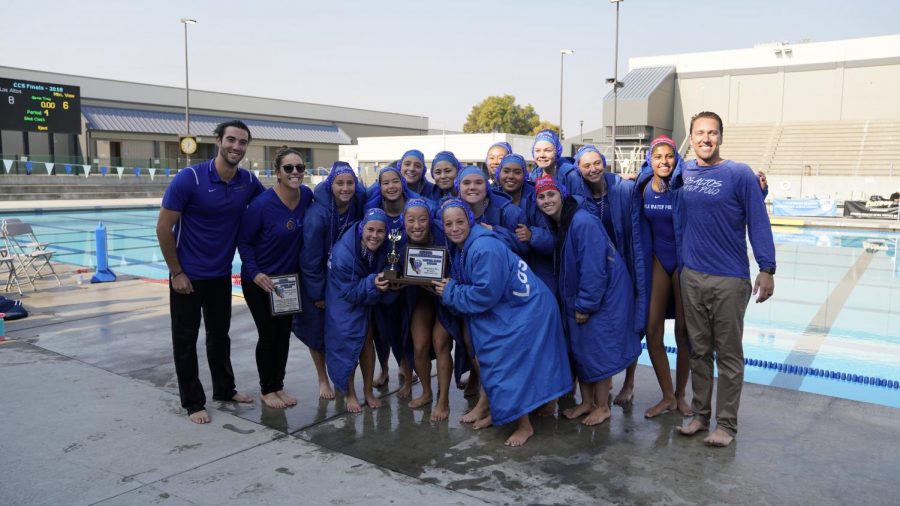 Kylie Akiyama
On Monday, November 12, the Los Altos varsity girls water polo team defeated Mountain View to win their second consecutive Division 1 CCS Championship. Despite the game's postponement from Saturday to Monday due to poor air quality, the team remained ready to tackle the Spartans and prevailed with a final score of 8 to 6, qualifying for the States tournament.
The game began with several turnovers and constant back-and-forth movement across the pool, setting the tone for a fast-paced game. The Eagles' initial lack of pressure on the Spartans combined with the Spartans' speed and shooting accuracy allowed the Mountain View team to score a few shots during the first half. However, the Eagles managed to edge out the Spartans by the end of the first quarter with a score of 3 to 2 and added to more goals in the second quarter to end the first half 5 to 2.
"The first two quarters was us kind of finding our bearings again after being out of the water for a couple days," coach Katie Tasman said. "Especially before a huge game like this, it's easy to make a couple mistakes."
After halftime, the girls quickly bounced back from their defensive mishaps and went after the ball with a renewed focus. The Eagles stayed in the lead for the entire game thanks to each player's efforts to communicate and pass more effectively. In addition, sophomore goalie Shreya Juneja's 16 saves kept the Spartans from catching up throughout the game. Though Mountain View managed to score two consecutive goals during the third quarter, closing the gap to a score of 5 to 4, the Eagles covered top shooters to prevent further shots. Within the last few seconds on the timer, the Eagles stole the ball, causing a turnover, and passed to senior Cynthia Yee who covered the span of the pool and took a skip shot, ending the quarter with a score of 7 to 4.
"We came in a little confident for the third quarter since we were up by three goals, and this led us to not come out as strong as they did,"  starter player junior Silke Tuyls said. "[But] we realized that we had to pick it up and tried to fix our mistakes and it made us score a few more goals.".
The final quarter consisted of a flurry of shots and intense defense from both teams. Several ejections and power plays occurred as Los Altos and Mountain View alternated scoring goals, gaining two points each. In the last four seconds of the game, Shreya prevented a high shot from entering the cage, ensuring a final score of 8 to 6.
At the sound of the buzzer, all three Los Altos coaches and the rest of the team jumped into the water to celebrate their hard-earned win. Los Altos looks forward to the state competition on Thursday, November 15, and expects another exciting match.
"I expect a good time [at states]," Tasman said. "This is the first time we've ever been in this position, so we're just coming in looking to play our game, focus on what we're in control of and then go from there."