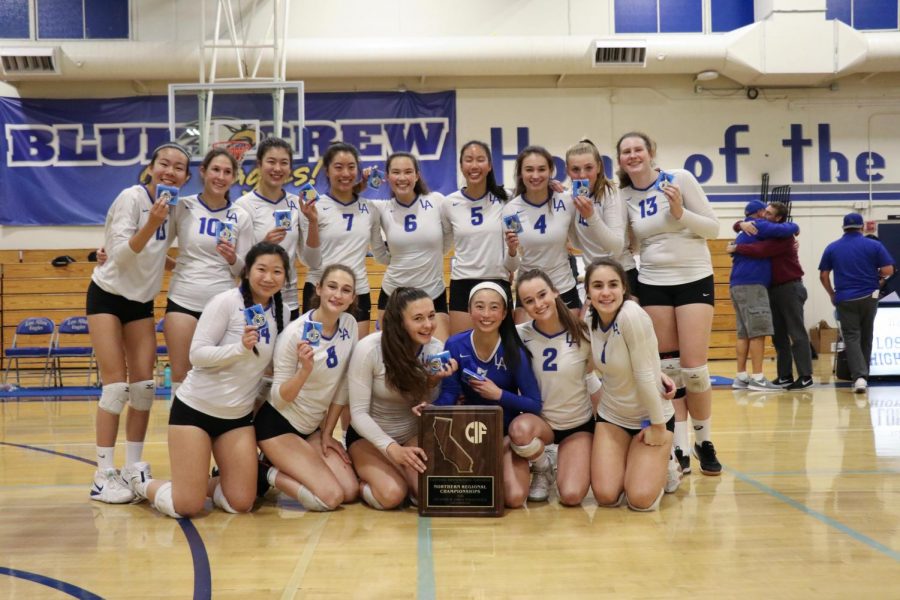 Ishaan Parmar
In a thrilling 3-1 victory against #5 seeded Cosumnes Oaks High School, the Los Altos varsity volleyball team won the Division 2 Regional Finals. Despite Cosumnes Oaks being the highest ranked team Los Altos has challenged this season, the Eagles dominated the majority of this game. With this win, the Eagles will advance to the State Final for the first time in the program's history.
In the beginning of the first set, both teams exchanged kills and digs, neither team being able to establish a significant lead. However, after a kill by sophomore outside hitter Naomie Cremoux and an ace by junior defensive specialist Alice Kutsyy, Los Altos attained a 13-9 advantage. A last-second dig by senior libero Kaitlyn Wong led to another kill by Naomie, causing Cosumnes Oaks to take a timeout when they were down 19-15. With a final ace by senior setter Lauren Wang, the Eagles claimed the set 25-20.
Due to committing numerous unforced errors and hitting into Cosumnes Oaks' block early in the second set, the Eagles quickly fell behind, even trailing 11-17. A strategically placed kill by junior setter/opposite Katie Kishton motivated Los Altos, and they began chipping away at the lead. Soon, after a missed hit by a Cosumnes Oaks hitter, the score was 20-22. Cosumnes Oaks proved to be more consistent at the end of this set, however, and with a final kill, they captured the set 25-21.
Motivated by their loss, the Eagles came out strong in the third set. With a 4-0 service run by senior defensive specialist Camille Blanc, Los Altos secured an early 5-2 lead. Subsequently, a solo block by junior Sydney Enthoven allowed the Eagles to gain a 15-7 advantage. Still fighting to win, Cosumnes Oaks returned Sydney's block with two of their own, and began climbing back into the game. After blocking outside hitter Jackie Wang, Cosumnes Oaks took their first lead of the set at 21-22. The two teams traded kills, but a clutch tip by Sydney allowed Los Altos to take the game 25-23.
Similar to the first two sets, Los Altos and Cosumnes Oaks initially struggled to attain a significant lead over the other team. A kill by senior outside hitter Tori Hausch energized the Eagle players, and Los Altos began breaking away from Cosumnes Oaks at 9-5. With some hard hits by Naomie and a solo block by Jackie, the Eagles firmly controlled the set with a 20-14 lead. Camille stepped back to the service line to finish the game with an ace, allowing the Eagles to win the set and game 25-19.
After the game, head coach Peter Kim was incredibly proud of how his players performed.
"I thought [because of] our work ethic [and] our grit, [we] won," Kim said. "We've been [in tough situations before] and we fight––that's what won us the match." coach Kim said.
Similarly, co-captain Tori Hausch explained that she and her teammates were excited to participate in a historical game for Los Altos.
"This is history for our program—for our coaches," Tori said. "[The coaches] were just sitting on the bench in awe for a couple minutes [because] they've been coaching for 18 years, and this is the first time they won [regionals] and it's just been such a great year." 
Though the Eagles are unsure about what to expect in the State Finals, they are excited to face this challenge and to continue playing with their teammates.
"We're just going to go and play our hardest, like we always do," Tori said.
Los Altos will compete against #1 seeded Village Christian in Santiago Canyon College, Los Angeles, on Saturday, November 17.